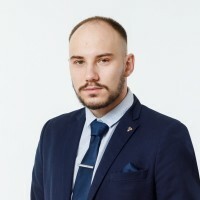 Alex Hrisanfovs
Vice President Of Business Development at Starly.io | ex @Deloitte
About
5+ years of experience in public and private finance. Payments. Crypto. Start-ups. Politics. Government. Tax.
Work experience
May 2021 - Present
Starly.io
Vice President Of Business Development
Launchpad and marketplace for your gamified NFT collection. Ultimate experience for creators and their fans. Built on the Flow Blockchain.
Jan 2020 - Dec 2020
During my work for xpate my responsibilities are: • Managing taxation, financial and regulatory reporting for entities based in Latvia, Lithuania, Estonia, United Kingdom, Singapore; • Supporting company audit processes in Singapore and United Kingdom; • Supporting company in acquiring tax benefits and applying for special government programs; • Group entity liquidity maintenance and OPEX forecasting and control; • Employee payroll calculations; • Group transferpricing policy organisation and implementation; • Leading Group structuring process.
Jan 2019 - Dec 2019
City of Aurora
Regional Development Specialist
During my work as a Budget Analyst: • Coordinated, researched, analyzed, developed and reviewed recommendations for budgeting, operations, financial planning, organizational analysis, policy formulation, performance measures, and service delivery • Acted as a liaison to City financial divisions in monitoring accounts and financial reports • Provided research information, resolution recommendations, and followed-up regarding control and budget issues • Provided administrative and budget assistance to departmental management and budget coordinators • Performed analysis of departmental expenditures and revenues against evaluation criteria • Assisted in fund management • Prepared and reviews various technical and financial reports During my work as Management Analyst: • Performed analysis of facility utility costs and provided advice to improve efficiency • Participated in work-groups and meetings related to ZEV, EV, AFV and infrastructure development • Involved in Capital bond campaign preparation, meeting with outsource consultants and City's stakeholders • Led the development of Economic and Financial Growth Section of Comprehensive Strategic Plan by the Office of International and Immigrant Affairs
Feb 2018 - Jun 2018
Assistant to Head of Development Unit
During this role I assisted the Head of Development Unit with: • Evaluation of actual regional transport situation for Olaine county; • Providing suggestions to raise efficiency of transport system with accordance to RPR Sustainable Development Strategy 2014-2030
May 2017 - Feb 2018
Deloitte Latvia
Transfer Pricing Consultant
Full transfer pricing documentation development including: • Industry analysis; • Company analysis; • Functional analysis of the company; • Economic analysis (i.e. financial analysis, cost allocation analysis, etc.). Project planning • Developing scope of the project; • Breaking down project's tasks; • Estimating budget for the project; • Estimating project's timeline; Regular trainings and developing skills in: • Accounting (ACCA); • International Tax; • Corporate Tax; • Value Added Tax etc. Working experience with databases like: • Amadeus; • Bloomberg; • RoyaltyStat
Feb 2017 - May 2017
Deloitte Latvia
Transfer Pricing Intern
• Market/Industry research of various industries - IT, Microlending, Logistics etc. • Benchmarking of market prices for products, services, loans and IP; • Company analysis using consolidated and unconsolidated financial reports; • ACCA internal courses;
Education
2017 - 2019
Rīgas Tehniskā universitāte (Riga Technical University)
Master's degree, City/Urban, Community and Regional Planning
2018 - 2018
Stockholm School of Economics
Future Leaders Academy 2018
2014 - 2017
Latvijas Universitate
Bachelor's degree, Accounting, control and audit
@ Copyright 2020 OfficeHours Technologies Co.