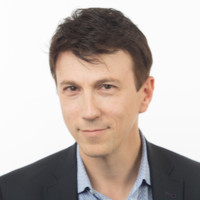 Daniel Kraft
Physician-Scientist. Founder & Chair, Exponential Medicine. Chair for Medicine at Singularity Univ
Work experience
Mar 2020 - Present
XPRIZE
Chair, XPRIZE Pandemic Alliance Task Force
The XPRIZE Global Pandemic Alliance is committed to catalyzing critical solutions to address COVID 19 and improve our ability to predict, prevent and respond to future pandemics. The alliance is powered by collaboration, competition, shared innovation, and scientific breakthroughs The Alliance Task Force serves to help identify, connect, and catalyze ideas, people, resources and solutions to address the pandemic and prevent future ones.
Apr 2019 - Present
Healthy.io
Board Of Directors
We offer the only FDA-cleared and CE-approved home urine test equivalent to lab-based devices.Our multidisciplinary team specializes in computer vision, product design, and clinical practice. We balance cutting-edge technology, superior user centric design and regulatory knowledge to bring clinical innovation from the lab to the home.
Jan 2015 - Present
Aspen Institute
Health Innovator Fellow
Member of Aspen Institute 2015 Inaugural Class of Health Innovator Fellows and a member of the Aspen Global Leadership Network. The goal of the Health Innovators Fellowship is to strengthen the leadership of innovators across the United States health care ecosystem, and to connect, inspire, and challenge these leaders to create new approaches that will improve the health and well-being of Americans. The Fellowship is designed for proven, highly successful entrepreneurs and innovators in the U.S.http://agln.aspeninstitute.org/fellowships/healthinnovators
Jan 2011 - Present
Exponential Medicine
Founder and Chair
Exponential Medicine is a unique cross-disciplinary program exploring & catalyzing the future of health and medicine. It was founded in 2011 and is held for 4 days each November at the Hotel del Coronado in San Diego-- Exponential Medicine is a unique multidisciplinary program focused on understanding and leveraging rapidly developing, convergent technologies (ranging from digital health, low-cost genomics, internet of things, to AI, big data, stem cells, robotics and nanotechnology) and their impact on the future of health and biomedicine. World class faculty come together with a diverse mix of clinicians, innovators, startups, device, pharma, investors & more to help reimagine and re-invent the future of health and medicine in a mix of lectures, workshops, and demo's. Learn more and join us at http://ExponentialMedicine.com
Jan 2009 - Present
Singularity University
Faculty Chair for Medicine & Neuroscience, Singularity University
Faculty Chair for Medicine & Neuroscience at Singularity University (SU) including for the Global Studies Program (GSP) and quarterly week-long executive programs. SU's mission is to educate, inspire and enable a cadre of leaders who strive to understand and facilitate the development of rapidly advancing technologies in order to address humanity's grand challenges. http://SingularityU.org Founder and Chair of the Exponential Medicine program http://ExponentialMedicine.com (being held this year November 4-7th 2018 at the Hotel del Coronado)
@ Copyright 2020 OfficeHours Technologies Co.