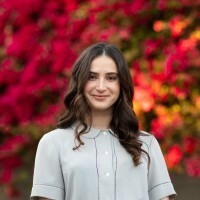 Kloey Battista
Innovation Consultant I Deloitte Consulting
About
CURIOUS. AGILE. EMPATHETIC. I graduated from UC Berkeley in 2018 and currently work at Doblin, a Deloitte business as an Innovation Consultant. I am an ambitious and creative strategist who thrives solving complex problems. In 2020, I co-founded a non profit organization, GirlNow Foundation, focused on enhancing women's rights and opportunities in Uganda,Africa to create an equitable world. Data has shown that when women are financially empowered, economies grow. I am passionate about experience strategy, creative solutions, digital design, human-centered design, future forecasting and entrepreneurship. I thrive from communicating and connecting people, ideas, images, design, public spaces, and experiences. On the way to do something that's never been done before. www.kloeybattista.com
Work experience
Jan 2021 - Present
Doblin
Innovation Consultant
We are global innovators working at the intersection of human-centered design, research and business strategy to help organizations imagine and build new businesses. Since 1981, we've pioneered the discipline of innovation and helped leading organizations navigate turbulent environments and thrive amid constant change. Through a combination of design, strategy, social science, and technology, we work to unearth opportunities and spur ongoing growth.
Jan 2021 - Present
Deloitte
Design I Experience I Innovation Consultant
Doblin, a Deloitte Digital business is the human-centered design and innovation practice of Deloitte, we have a powerful integrated growth services offering with leading talent and experience in digital transformation, change management, organizational capability building, and strategic implementation. Deloitte Digital I Deloitte Consulting LLP
Sep 2020 - Present
GirlNow Foundation
Co-Founder & Co-CEO of GIRLNOW Foundation
GirlNow is a movement to create sustainable futures for women by enhancing women's rights and opportunities to become female entrepreneurs, innovators, and global leaders. GirlNow Foundation is a Non-Profit currently operating out of the US & Uganda.
Jan 2020 - Jan 2021
Gensler
Innovation Strategist
I work as part of our Innovation Consulting team where we help companies design innovation capabilities, culture and places. Innovation Strategy includes: Plan and perform user research and data collection activities, design and support engaging workshops with internal teams, clients, and other stakeholders, analyze complex and differing information from several sources to determine impact on business goals, organizational culture, or performance criteria for spatial design, synthesize information and data into narratives told through presentations, reports, posters, videos, websites, and more, develop compelling communications that help clients to visualize and understand the benefits and implications of our strategies and recommendations, define and develop concepts and prototypes of products, experiences, programs, services, and spaces to test with users and stakeholders, use interdisciplinary thinking and collaboration to ground all ideas in research insights and design constraints, support the development of new business proposals, including process, scope, compensation, and team structure, and grow existing client relationships, and build new ones
Dec 2017 - Jan 2021
Rodan + Fields
Sales Consultant
Sales consultant at Rodan + Fields. Manage clients, sales, revenue, etc.
Oct 2018 - Oct 2020
Gensler
Experience Strategist
Experiential design strategist at Gensler New York on the Brand Design Team creating the future of the built environment! Pushing the status quo every single day. Experience Strategy includes: Conduct research, Synthesize data into insights, Analyze trends, Design & Facilitate client workshops, Conduct and synthesize stakeholder interviews, Define personas and user archetypes, Journey mapping, Identify business opportunities, Content strategy, Brand Narrative Voice and design language, Identify and harvest content assets, Content sequences and media schedules, Distill a unique experience vision , Physical space considerations & Strategic Digital experience design.
Jan 2018 - May 2018
Tonight
Community Consultant at Tonight
Spread awareness to Tonight on UC Berkeley's campus. Plan/execute events for application with 175+ new uers. Campus outreach and marketing strategy.
Jan 2018 - May 2018
Recruited over 170 onboards to Tonight Mobile Application. Execute launch party managing budget of $400 for 400 person events. Increase app downloads and complete profile KPI's by 180 profiles. Assisted with public outreach to local Berkeley bars and restaurants.
Sep 2015 - May 2018
Undergraduate Marketing Association
Design Consultant Lead
Design consultant at UC Berkeley's first & finest marketing consulting organization. Lead 10 person team providing clients with creative materials including logos, posters, web design, packaging design,branding, and much more.Combines conceptual marketing techniques with graphic design expertise to produce promotional materials that strategically and aesthetically target the appropriate audience.
Aug 2014 - May 2018
University of California, Berkeley
Student at UC Berkeley
Student at UC Berkeley majoring in Media Studies with a focus on Human-Centered Design and Entrepreneurship.
Feb 2017 - 2017
Just Like My Child Foundation
Just Like My Child Programming Assistant
Traveled to Uganda in 2016 to empower vulnerable adolescent girls and participate in JLMC's Girl Power Camp in Uganda. Research and organize and launch effective curriculum to teach and empower girls in the US, specifically aimed at ages 10-13. Supported Executive Director in launching Girl Power USA Program.
Jun 2016 - 2017
Doctor Evidence, LLC
Digital Health Intern
Doctor Evidence is a software and services technology company that provides research and analytics to stakeholders across the healthcare ecosystem, including life-sciences companies, academic institutions, evidence-based practice centers, and leading healthcare providers. DRE answers scientific, medical and business questions that require medical evidence by conducting comprehensive literature searches which are stored in DOC Library. Using proprietary software, the company meticulously convert the data from published sources into datasets in DOC Data, where they can be analyzed, queried and exported. This data is the foundation for conducting Systematic Literature Reviews, Meta-Analyses, Landscape Assessments, Regulatory Responses, Publications, or other deliverables. Researching, brainstorming, and developing a user-friendly and aesthetically pleasing experience for an innovative digital healthcare application. Completed extensive research on changing healthcare guidelines. Input diverse data in excel.
Jan 2015 - Jan 2016
Chi Omega Fraternity
Apparel Designer and Distributer
• Work with selected companies to design apparel for the Mu chapter of over 160 women. • Organize orders and distribution of apparel.
Jun 2015 - Aug 2015
Marketing Intern at Gensler, an integrated architecture, design, planning and consulting firm with professionals networked across 46 offices-providing global reach with local touch. Graphic design of banners, proposals, and presentation elements. Organization of marketing print collateral materials. Assisted with the production of proposals and other marketing materials. Research project for the Los Angeles Department of Transportation, invented innovative temporary bike lanes in DTLA (BikeOn). Created a brand identity and logo for BikeOn Bumpers in DTLA. Strategized social media marketing campaigns _______________________________________________________________________________ "Kloey Battista was a joy to work with during her 2015 summer marketing internship at Gensler Los Angeles. She has tremendous leadership potential, a keen understanding of marketing strategy, and an eye for graphic design. Kloey did a great job of stepping-in and working with members of our marketing team on proposal content and graphic elements—she was truly a positive addition to our marketing team! " --Kristi Sprinkel, Marketing Manager at Gensler
Education
University of California, Berkeley
Mass Communication/Media Studies
@ Copyright 2020 OfficeHours Technologies Co.