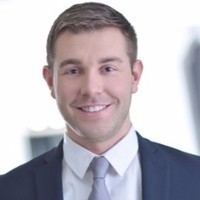 Matt Palm
Director of Product at UnitedHealthcare
About
Matt is recognized for his distinctive healthcare product experience across payer, provider, and consumer markets. He holds a Master of Public Health (Executive Master in Public Health Administration and Policy) and a B.S. in Biology both from the University of Minnesota, Twin Cities. Throughout his experiences in private, public, and non-profit health organizations, Matt has developed a commitment and passion to transform health care delivery through strategy and value creation. His depth of healthcare experience has enabled the strong industry and market expertise necessary to inform business and product strategy to ensure long-term sustainability. At UnitedHealth Group, Matt has worked extensively within consumer-centric product development, innovation, and strategy across Medicare, Medicaid, individual, and employer-sponsored health insurance products. Prior to joining UnitedHealthcare, Matt consulted dozens of health plans in strategy, regulatory, and business modernization initiatives. Matt's past professional experiences also include leadership roles within Optum, Medica Health Plans, and Hennepin County Medical Center.
Work experience
Apr 2020 - Present
UnitedHealthcare
Director, Product
Own product strategy, business, technology, and operations teams responsible for end-to-end experience: • Connect and align enterprise consumer product strategies to improve market competitiveness and cohesive product value • Drive alignment across digital, clinical, behavioral, social determinants, and pharmacy products to enable seamless, relevant, and distinctive consumer experiences • Enhanced client reporting to include financial value and cost savings of consumer and health plan actions across all touchpoints
Jan 2018 - Dec 2020
UnitedHealthcare
Director, Product Strategy
Led cross-functional business, technology, and marketing teams through digital product development efforts: • Led virtual care digital product strategy to enable a seamless experience, access, adoption to reduce cost by 30% on average, increase NPS by 20+ points, and increase adoption by 3x • Aligned enterprise Internet of Things (IoT), connected devices, and digital strategies to create scalable architecture, eliminating redundancies and improving operational efficiencies • Consolidated and enhanced digital product plan design for 4 regional products and core national employer product • Developed and aligned digital therapeutics and wellness product strategies to drive engagement and clinical quality
Jan 2017 - Dec 2018
UnitedHealthcare
Director, Product Development
Led two of five market teams to execute new capability development for three new products • Built and scaled two industry-leading products by integrating three enterprise assets and two vendor partners through end-to-end, development, build and market launch, generating $4M in new sales • Established and drove the first cross-market strategy, leading all five market teams to scale and launch the capabilities from the ground up in 10 months, impacting 7M+ members in 130 countries • Consolidated 2 redundant operations platforms into 1 integrated asset in 8 months, saving $5M annually • Modernized and standardized enrollment, login, and navigation across portal and app in 6 months
Jan 2016 - Dec 2017
UnitedHealthcare
Senior Manager, Operations
Promoted to lead new team of five to define new innovation and analytics strategy, pipeline of solutions • Increased overall business output 3x while keeping costs consistent through new universities and startup partnerships • Improved product development speed to market by 50% through strengthened relationships and simplified processes
Jan 2015 - Dec 2016
UnitedHealthcare
Manager, Operations
• Led team of three through end-to-end digital initiatives totaling $500k+ in Capital to reduce business costs and improve self-service across 30 states and 6.7M members • Achieved all-time high NPS score in under 12 months through new portfolio of initiatives across 3 national businesses
@ Copyright 2020 OfficeHours Technologies Co.