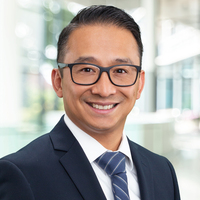 Ray Prospero
Partner Advisor | Fiduciary | Financial Planner | Reinventing Wealth Management
About
Experienced Partner Advisor with a demonstrated history of working in financial services. Skilled in Securities, Retirement Planning, Equities, Investment Advisory, and Estate Planning. Strong professional, graduated with a Juris Doctorate from University of La Verne College of Law and earned the Chartered Financial Consultant designation from The American College. Recipient of the Circle of Excellence recognition club, awarded by Merrill Lynch to top advisors nationwide and the City of Corona, California's "40 under 40" award, recognized by the US Congress, California Senate and Assembly. Giving back is important to Ray. He is on the Board of Trustees for Vitalant, one of the nation's oldest and largest non-profit transfusion medicine organizations, which provides blood services to almost 1,000 hospitals across 40 states. He also sits on the Board of Directors for LifeStream Blood Bank and the Board of Visitors for California Baptist University in Riverside, CA.
Work experience
May 2020 - Present
AdvicePeriod
Partner Advisor
-FT 300 Top Registered Investment Advisor - Financial Times (2018, 2019 and 2020) -Innovator & Best Family Office of the Year - WealthManagement.com (2018, 2020) -Schwab Advisor Services Pacesetter Impact Award (2019) -Best Wealth Planning Firm in the US - Family Wealth Report Awards (2019) -Thought Leader of the Year - WealthManagement.com (2019) -Top Places to Work in the United States -Inc. Magazine (2018) -#1 Fastest Growing RIA Firm on the West Coast and #4 Nationally -InvestmentNews (2018) -#1 FinTech Wealth Management Firm in the U.S. - FinTech Breakthrough Awards (2017) -#1 Place to Work in Los Angeles - LA Business Journal (2016) -#1 Ranked Independent Financial Advisory Team in California - Barron's (Lockshin, multiple years) -#1 Ranked Independent Financial Advisory Team in the United States - Barron's (Lockshin, 2011) At AdvicePeriod, we think it's time to reinvent wealth management and focus clients on the important decisions necessary to manage their wealth. Our highly regarded experts prepare clients for whatever life brings their way. We understand how any event or opportunity might impact the big picture, so we can help clients plan, grow and keep more of their wealth over time. By combining actionable planning advice with objective investment guidance, we strive to enable clients to achieve their financial goals, and shape their legacy for generations to come. This is how wealth management is going to evolve. This is AdvicePeriod.
2018 - May 2020
Merrill Lynch
Senior Vice President - Wealth Management
2014 - 2018
Merrill Lynch
Assistant Vice President
2010 - 2014
Merrill Lynch
Financial Advisor
@ Copyright 2020 OfficeHours Technologies Co.