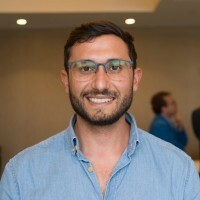 Sam Kirschner
Director Of Operations at Village Global
About
I'm interested in the intersection of data/software, operations, and people, particularly in venture capital. At Village Global I'm helping build a network driven venture capital fund.
Work experience
Mar 2021 - Present
Village Global
Director Of Operations
Jun 2019 - Present
Scarf helps open-source developers get paid and deliver better software. Learn more at Scarf.sh
Apr 2015 - Present
SimpleWater is a water science and technology company. SimpleWater provides water testing for homes and businesses and recommendations on how to resolve water quality issues. SimpleWater has also created one of the most comprehensive databases on water quality in the US.
Oct 2019 - Mar 2021
Village Global
Head Of Operations
Village Global is a $100M early stage venture capital fund backed by some of the world's most successful entrepreneurs. Village is not a traditional VC. We're a network. From how we invest in startups to how we help founders - we operate as a network. When you raise money from Village, you're not just getting money. You're getting connected capital.
Oct 2017 - Sep 2019
The House Fund
Head Of Operations
The House Fund is a pre-seed and seed stage venture capital fund investing in Berkeley's top student, faculty, and alumni startups.
Jan 2017 - Oct 2017
Distributed Systems
Data Science
I was a data scientist and software engineer at Distributed Systems, which was acquired by Coinbase.
Jun 2015 - Jan 2017
Grand Rounds, Inc.
Data Science
Grand Rounds mission is to help anyone find the best possible medical care for their needs. We do this by offering second opinions on medical conditions from world class physicians and routing patients to the best quality of care that fits their needs. As a data scientist I worked on many problems, often times focused on measuring physician quality or understanding how to best match a patient to a physician. I worked with SQL (MySQL/Postgres/BigQuery), python, AWS, elastic search, and docker among a host of libraries and other tools.
Jan 2013 - May 2014
Free Ventures
Co-Founder & Managing Director
Free Ventures is a student run non-profit incubator program that provides UC Berkeley students with units, funding, space, workshops, mentorship, and business development resources. Our mission is to free students from the constraints that hinder startup exploration while in school, allowing for the pursuit of high-impact ventures. I started and ran the program for it's first year and still act as an advisor to the program. View freeventures.org for more details.
Jun 2013 - Aug 2013
Autodesk
Software Engineering & Data Science
I worked on a small research team in the cloud computing and infrastructure division studying the use of machine learning in CAD software. In my time I learned different classification techniques, developing in python on top of an AWS EC2 instance paired with S3. The research of my team went on to become the design graph. I also got experience with various 3D printers and CAD software, because it's Autodesk.
Apr 2012 - May 2013
Energy Biosciences Institute
Data Research Assistant
I worked for David Zilberman, helping with math and computer programming on several projects involving agriculture resource economics.
Education
2010 - 2014
University of California, Berkeley
BA, Statistics
@ Copyright 2020 OfficeHours Technologies Co.