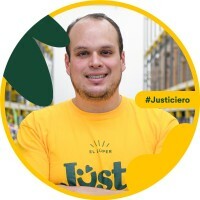 Andrés Subía
Head of Finance/HR at Jüsto
About
Im an economist and a highly motivated professional with 4 years of experience in multinational companies within the consulting and telecommunication industries. I´ve had the opportunity to work with several cross functional teams, acting as a well-rounded and positive leader, as well as a great team player, all of which has allowed me to delevop and enhance my team work capabilities trough an active participation in decision-making processes. Im constantly seeking for challenging job opportunities in recognized multinational corporations, that allow me to develop a professional career inside the company providing a challenging and enriching work environment. **Legally entitled to work in Canada (PR)**
Work experience
Apr 2019 - Present
Jüsto
Head of Finance/HR - Founding Team
Sep 2017 - Present
Firm dedicated to research work in university, business and government projects, whose main objective is to bring competitive projects to international, regional, local and sectorial standards. - Creation, construction, consolidation and analysis of Databases - Descriptive analysis - Financial analysis - Standardization - Report and progressive and systematic monitoring in the short, medium and long term
Jul 2014 - Present
Fundación Becando Futuro
Co Founder / MD
Co-founder along with seven (7) members graduates of Economics - Universidad Católica Andrés Bello (UCAB). Foundation dedicated to providing financial assistance to students of economics UCAB with high economic hardship. - Becando Futuro is presented as a foundation to support exceptional students who enroll in the first semesters of Economics UCAB and that given the economic situation in our country, find it difficult to meet the payment of college tuition. - The concept is to organize Economics UCAB alumni in order to gather sufficient economic contributions for scholarships (tuition and monthly payments) for these young people. - Members of the foundation are responsible for providing direct tutoring to each scholarship throughout his academic life, serving not only as economic aid but also as accompanying work, support and supervision. - The foundation is currently constituted by eight graduates of Economics UCAB, committed to grant scholarships to two students for the first year. The objective for the next years of operation is to expand the base of graduates, contributions and scholarship students. - As of October 2014, we have two young talents already studying supported by the foundation
Aug 2017 - Apr 2019
Bimbo, S.A. de CV
Finance Supervisor
- Responsible for generating and presenting the month-end figures of the different channels, categories and clients to the managers and directors of the different business units. - Generation and validation of P & L. Analysis of deviations Vs. Budget. - In charge of analyzing the viability of business cases to improve the financial profitability of products, categories and chains. - Generation and validation of hypotheses, applying consulting models to increase the generating value of the organization. - Carry out the complete financial analysis of a business case, including: statements of current and projected results, indicators and financial ratios (IRR, ROI, VPN, among others). - Close relationship with several internal clients, such as: planning, product innovation, customers and consumers, finance and administration, marketing, among others.
Jun 2016 - Jul 2017
OMNIS Financial Consulting
Director
Financial Consulting Services: - Financial planning - Corporate Finance - Business Valuation - Strategic and Corporate Planning - Management control www.omnisfinancialconsulting.com
Nov 2015 - Jul 2016
Responsible for the coordination, planning and execution of financial management of Panama and Costa Rica. - In charge of the financial performance of both countries. - In charge of executing and reviewing the set of monthly reports requested by the Global Controller. - In charge of carrying out the Project of incorporation of massive collection to drivers in both countries. - Responsible for creating payment policies and ensure the proper functioning of the collection system. - Responsible for all audits and due diligence, for bothr corporate and external auditors. - Planning and execution of financial activities jointly with the Country Managers of both countries. - Responsible jointly with the Managing Director Northlatam and the Global Controller for generating high impact strategies that help optimize the financial performance of both operations.
Nov 2014 - Sep 2015
Telefónica
Recoveries Supervisor
- Manage cross - functional teams consisting of coordinators and analysts to successfully execute the external collections - Overhaul and manage weekly communication which ultimately facilitates internal knowledge sharing and enhances external agents relations - Manage Key accounts and direct contact (SME´s A Type). - Manage reporting procedures of the monthly write-off of uncollected receivables - Coordinate and perform analysis of doubtful accounts provision and serve as bridge to the accounting department to record such amounts.
Nov 2013 - Nov 2014
Telefónica
Collections Coordinator
- Performed collections management activities for individuals and SME´s. - Supervised and leveraged creative leadership and efficient empowerment over collection agencies - Identified and leveraged creative problem solving of internal system failures in the collective operations - Performed research of gaps between stated objectives and recent statistics and developed action plans to mitigate risks.
Jul 2012 - Nov 2013
- Planned, coordinated and performed financial business audit processes. - Designed and conducted audit reports. Participated the results to the head officers of area. - Assisted with the review of company's key processes and provided recommendations in order to increase productivity and improve internal procedures
Jul 2011 - Jun 2012
- Performed internal Audit processes, Sarbanes – Oxley (SOX) compliance, Enterprise Risk Management, money laundering and optimizing Business Processes projects. - Business market management ; identified risks and controls through a walkthrough process through both internal methodology as COSO framework - Completed projects and achievements with the following clients: PDVSA, Parmalat, Seguros Caracas (Liberty Mutual), Banco de Venezuela, among others.
Jul 2009 - Feb 2010
Banco Exterior C.A. Banco Universal
Intern
Six-month internship performing key tasks and assisting managers responsible for the following areas: Treasury, Money Laundering and Credit Control.
Education
2012 - 2013
Universidad Católica Andrés Bello / Universidad Catolica Andres Bello
Risk Specialist, Economics
2005 - 2010
Universidad Católica Andrés Bello
B.A. Economics, Economics
2004 - 2005
Nyborg Gimnasium
Exchange Student (1.a)
1998 - 2004
Institutos Educacionales Asociados (IEA)
Bachiller en Ciencias
@ Copyright 2020 OfficeHours Technologies Co.