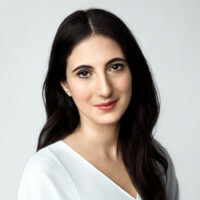 Ashye Marcus
Digital Executive / GM, Sales & Business Development, Growth and Account Management / Advisor / Consultant
About
Ashye is a digital executive and currently the VP of Brand Partnerships at NuORDER, the #1 Ecom B2B platform. Her role is focused on cultivating relationships and scaling the brand portfolio associated with NuORDER's exclusive retail partners. She's passionate about the intersection of brands and technology, and spent the prior 3 years working directly with the founders of CaaStle to operationalize their B2B business model of CaaS (Clothing as a Service) that enables retailers to offer a branded subscription rental experience. At CaaStle, Ashye gained deep expertise in the subscription/rental industry and scaling high-growth B2B2C business by bootstrapping both the Managed Services organization (i.e. Client Partnerships & Growth, Marketing and Merchandising) and the Sales/Business Development team (closing numerous high-profile and complex enterprise deals). Ashye has extensive knowledge of the fashion/brand/luxury landscape and is laser-focused on driving revenue growth & achieving business KPI's. She thrives in fast-paced & complex businesses where leadership and collaboration across functions is paramount to maximizing enterprise value. Ashye began her career in investment banking covering the retail sector and subsequently spent a decade working with global brands in a range of leadership roles (Strategic Planning, Merchandising/Planning, and International).
Work experience
2021 - Present
Growth, sales / business development and strategy advisor
2020 - 2020
NuORDER
VP, Brand Partnerships
Oversee a portfolio of 1,500+ brands associated with NuORDER's exclusive retailer partners (Nordstrom, Saks Fifth Avenue, Bloomingdale's and a Luxury POC). Drive platform adoption for brands and influence luxury brands to participate in program - Metrics/KPI driven executive with focus on brand relationships, scalability, strategic segmentation and creation of a lead-gen channel - Brand portfolio will have more than tripled in 9 months (from March to Nov)
2019 - 2019
Led North America region and shaped/executed commercial strategy that monetizes proprietary hardware (360° photography). Management Team member. - Drove 360° photography test plan for key enterprise accounts (Amazon & top luxury brands) to unlock revenue potential
2018 - 2019
CaaStle
Head of Sales and Business Development
Partnered with CEO to build B2B division that leverages proprietary technology and logistics to power the apparel industry. Closed complex deals with high profile retailers/brands (Ann Taylor, New York & Company, Express, American Eagle, Vince, Rebecca Taylor, Scotch & Soda and DVF) - Primary point for B2B sales and qualified lead generation. Led or played pivotal role in sales process for all brands launched pre June 2019, closed several additional brands for future launches - Operationalized end-to-end sales cycle. Scaled team to support a robust pipeline, negotiated/closed deals and drove framework to prioritize/evaluate prospects - Generated content for C-Suite presentations and drove prospects through the sales funnel - Partnered with cross-functional teams to ensure pitches are deal-winning and contracts are structured in mutually beneficial fashion - Drove platform launch strategy at Shoptalk (March 2018) and accompanying B2B press, collaborated with PR team on B2B strategy and execution
2016 - 2018
CaaStle
Head of Client Partnerships & Growth; Sr. Director, Strategic Planning
Led strategic and operational efforts to establish the company's B2B division and spearheaded the initial two retailer pilots. - Drove the GTM and non-technology implementation of B2B division's first two pilots. Built the Managed Services division with CEO/SVP and led the team (Client Partnerships & Growth, Marketing, Merchandising and Customer Service) until all leadership roles were filled - Facilitated planning offsites with Engineering/Product and Warehouse Operations, collaborated with Recruiting to build team and implemented internal & external operating reviews to drive B2B2C results - Led Client Partnerships & Growth team to drive rental program holistically and influence acquisition strategies & retention tactics - Created implementation playbook to launch subscription rental and drive subscriber growth. Established pilot success metrics/test plan to create compelling case studies - Led qual/quant study to gain merchandising and consumer insights
2013 - 2016
Cole Haan
Director of Merchandising Strategy & Analytics; Director of Corporate Merchandise Planning
Led global merchandise planning team in delivering impactful product analytics & insights to maximize inventory productivity, increase margin, optimize development and shape product strategy.
2014 - 2015
Cole Haan
Commercial Director of Latin America
Oversaw Latin America region; provided strategic & operational guidance to local partners to maximize marketplace success. Responsible for business development, retail openings, marketplace launches and productivity improvements. - Established a profitable business segment in less than one year. Achieved $4MM in Y1 shipments and built pipeline to deliver $10MM+ in Y2 retail sales - Executed successful brand launch in Mexico that encompassed 1 retail store, 2 SIS and 20 wholesale doors. Led retail/wholesale expansion in Peru, Panama, Chile and Colombia
2011 - 2012
Cole Haan
Sr. Manager of Merchandising Operations - Product Strategy & Go-to-Market
Drove the product creation to market process and led strategic planning for global merchandising. Responsible for product and marketplace analytics. Spearheaded the development, activation and ongoing refinement of the company's integrated go-to-market process and devised seasonal/quarterly action plans and tools to execute product initiatives.
2010 - 2011
Cole Haan
Manager of Strategic Planning
Developed the long-term strategic plan with leadership team that reshaped the company's growth/profit profile and partnered cross-functionally on implementation. - Collaborated with business leaders to build and execute strategic plan for Nike leadership that maximize brand, product, marketplace and financial potential; strategy activation yielded top-line gains of $111MM and doubling of EBITIDA to $58MM in 3 years, favorably positioning the brand for sale by Nike to private equity - Built the product strategy with SVP of Merchandising that reset the product positioning; plan execution achieved double-digit growth in the Men's business each year since strategy inception (from $149MM in FY10 to $225MM in FY13, 15% CAGR)
2009 - Oct 2009
L Brands
Manager of Finance (Henri Bendel)
Responsible for retail finance and corporate financial planning & analysis of $50M brand with 11 stores. Led financial budgeting process and Quarterly Business Reviews for Limited Brands leadership.
2006 - 2009
kate spade new york
Manager of FP&A, Direct Brands (Juicy, Kate Spade and Lucky)
Responsible for financial management of $1.2B Direct Brands portfolio (Kate Spade, Juicy Couture and Lucky Brand Jeans), consisting of owned retail stores, wholesale, distributors and licensees. Promoted from Senior Analyst of Direct-to-Consumer Finance.
2004 - 2006
Lehman Brothers
Consumer/Retail Investment Banking Analyst
Created valuation models and strategic presentations to support current/future transactions. Advisor on $840MM acquisition; partnered with leverage finance & financial sponsors teams to execute transaction financing ($152MM high-yield offering)
Jun 2003 - Aug 2003
Credit Suisse
Equity Research, Summer Associate
Education
2000 - 2004
The University of Texas at Austin - The Red McCombs School of Business
Bachelor of Business Administration (BBA), Finance, General
@ Copyright 2020 OfficeHours Technologies Co.