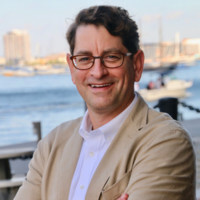 Stephen Goodman
Operating Partner | CxO | a P&L, Business Development, and Go-to-Market Executive | Building Teams | Corporate Development & Venture
About
I am a growth and innovation executive, operational partner and P&L manager, generating value from profitable revenues; scalable growth; team leadership; and operational excellence in technology-enabled and digital-native businesses. Long experience in combining business strategy, human factors, and technology: enterprise software, cloud platforms and services, digital and industrial transformation, commercializing DAML (data, analytics, ML), SaaS, and the connected worker. I am energized by complex, ambiguous challenges. My success is dependent on hiring and growing great talent with purpose & accountability; diversity and inclusion. I enjoy and successfully build cross-functional technical, customer and creative teams who are globally distributed. Driven by customer experience and success; oriented towards data-driven and human-centered approaches. My graduate work is in economics, steeped in international business; backed up with extensive time overseas.
Work experience
2019 - Present
Massachusetts Institute of Technology
Technology Venture
Ongoing outside advisor for Technology Venture Office and Office of the Director at Lincoln Lab, M.I.T.'s largest lab ($1B). Security clearance.
2018 - Present
Tabard Venture Capital
Advisor
Angel and seed investments in technology companies.
2017 - Present
Madrone
Founder and Operating Partner
What stage are you overcoming: growth, turnaround, new product, integration, pre/post-acquisition, leadership shift? Struggle with the execution of a transformation, innovation, or a cloud or SaaS model? We are brought into leading global organizations undergoing a transition stage to solve and pair the often neglected operational and revenue challenges with the strategic business and investment path. Serve as an operating partner, executive advisor, strategic business development, and go-to-market (GTM) for venture capital and private equity-backed companies along with F500 enterprises, globally. We support investment houses and PE transactions. Long on the challenges in SaaS, cloud platforms and services, enterprise software, data, tough-tech, commercializing AI/ML, and the intersection of humans, teams, and technology. Select engagement: MIT Technology Ventures at Lincoln Lab & Portfolio Companies; Tulip Interfaces; ClaroVC; Flex Innovation; Microsoft GTM Partners; Masawa; Mike Stonebraker (Turing Laureate) New Venture.
2008 - Present
Bay Area Council
Senior Research Council
Advisor to Economic Institute in developing its thought leadership, research, and analytics.
2020 - 2020
Tulip Interfaces
Strategic Business Development & Partnerships (Global)
Helped company during the COVID pandemic become enterprise-ready working with decision-makers to tackle investments in cloud services (AWS, Microsoft, GCP), digital operations (F500 customers), and industrial transformation (McKinsey, Bain). Built company's initial business development and partnership function. Tulip Interfaces is an early-stage, VC-funded (NEA) SaaS company building a Cloud and Analytics Platform for Life Sciences and Industrials
2018 - 2018
Interim GM focused on turnaround P&L along with managing the team and technology portfolio including business development/corporate venture for the commercially focused advanced technology center. Flex ($26B) Sketch-to-Scale® solutions provider that designs and builds Intelligent Products for a Connected World®.
2014 - 2018
Radius Innovation & Development
Vice President
As the Vice President of the company led the entire commercial and revenue side of the business. Full ownership of top-line revenue and accountability for global P&L. Built and managed cross-disciplinary worldwide teams. Guided six P&Ls globally: sales (including account teams, go-to-market), business development/strategic growth, and professional services. Member of the global executive operational team focused on post-acquisition growth & integration with the parent company. Opening new P&Ls, launch business units, and augmenting struggling P&Ls. An executive with Jabil's Digital Solutions Group. Radius was an acquisition and the innovation, digital transformation, and product development firm of Jabil company, F200.
2013 - 2014
EPAM Continuum
Senior Vice President
Member of the executive team and responsible for top-line growth, business development, and global marketing (brand, corporate, digital, creative, and PR) across all geographies and industries. Reported directly to the CEO and prepared the company for sale.
2010 - 2013
Nexus Partners
Director, Cambridge Office and Partner
Structured and drove programs with F500 and emerging SaaS technology companies for their venture, corporate development, and financial leaders who had challenges in innovation, consumer internet, and digital. Customers included early-stage (looking to grow up) and corporates (looking to stay ahead).
2007 - 2010
Sun Microsystems
Head of Strategy, Corporate Marketing
Built, launched and led a new enterprise strategy, partnership, and go-to-market (GTM) function directly serving the Chairman, CEO, CTO, EVP of Global Sales, and SVP of Cloud. Pioneered the combined use of digital, analytics, and thought leadership strategy. Sun Microsystems (NASDAQ: JAVA) was a Fortune 200 $15+ billion technology pioneer. Acquired by Oracle (NASDAQ: ORCL).
2001 - 2007
PowderHouse Partners
Founder and Operating Partner
Entrepreneur who launched and grew year-over-year a globally-scaled company that originated from M.I.T.-based research. Addressed customers' needs around: 1. Technology Commercialization 2. Innovation Strategy and 3. Go-to-Market for new services and products.
2000 - 2001
Mainspring, an IBM Global Service company
Associate
A high-growth venture-backed digital and e-commerce firm that was listed on Nasdaq and acquired by IBM.
Education
The Fletcher School at Tufts University
Master of Economics and International Business, Focused on the Economics of Technology
Massachusetts Institute of Technology
Completed collaborative research to develop economic models for emerging technology.
@ Copyright 2020 OfficeHours Technologies Co.