A better expert network
April 24, 2023
Office Hours
Office Hours is on a mission to help everyone realize the true value of their own unique knowledge. But what does that mean in practice?
Over the past three years, we've built the expert network and software platform of choice for hundreds of the world's most successful venture capital firms, startups, and consulting firms.
In this post, we break down how our Office Hours sets itself apart from traditional incumbent vendors like GLG, AlphaSights, Guidepoint, and others.
#1: Our vision and mission
We believe that every person's unique lived experiences and knowledge are immensely valuable to someone somewhere else in the world.
The problem? Most of that knowledge and experience is stuck in our heads, making it incredibly difficult to share with others and monetize.
Our vision is to make human knowledge easily accessible and infinitely scalable. To do so, we're starting by building a marketplace full of the world's most knowledgeable professionals and making that knowledge available to firms and teams of all sizes.
#2: Our network
Intentional industry focus
We have thousands of verified, active experts across industries, with a heavy concentration in technology and healthcare. Here are examples of the types of experts you can speak to on Office Hours:
Technology
Chief Technology and Chief Information Security Officers at F500 companies
Product Managers at high growth SaaS companies
Key decision-makers for popular software categories
Software engineers with experience deploying specific software products
Healthcare
Executives responsible for new product innovation at major U.S. healthcare payers
Top Key Opinion Leaders (KOLs) in specific disease categories
Physicians with experience prescribing certain drugs and treatments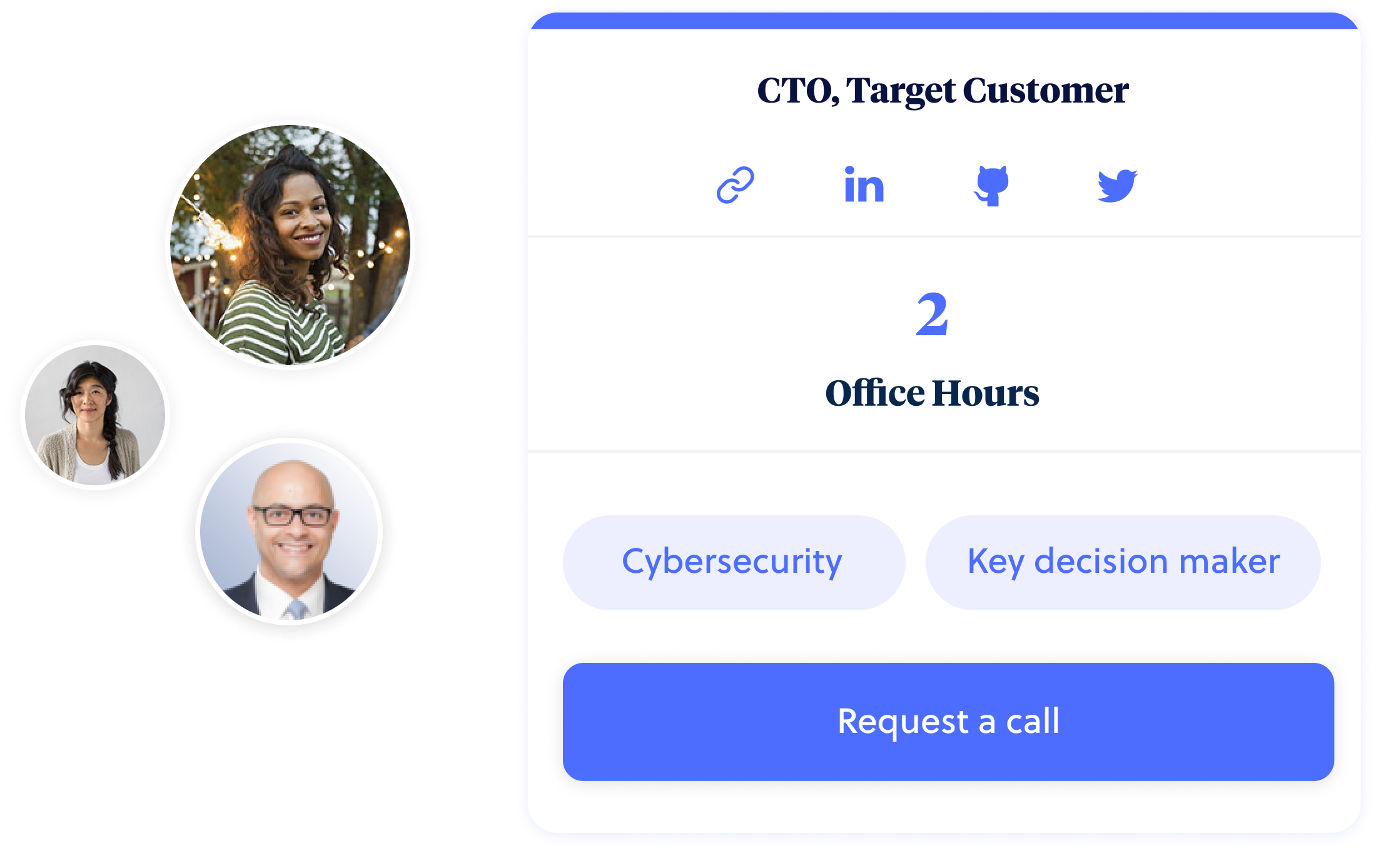 Powerful knowledge graph
We're building the graph of what people actually know, not just relying on heuristics like titles, education, and work experience to facilitate connections. Those traditional heuristics, while helpful, often lack enough context to be useful.
Say you're a founder looking to validate a new product idea for your startup. Sure, you might think you know who your target customer is based on their title.
But what if you could actually find the right experts by searching through the other software products they've evaluated or purchased in the past? You can do that on Office Hours.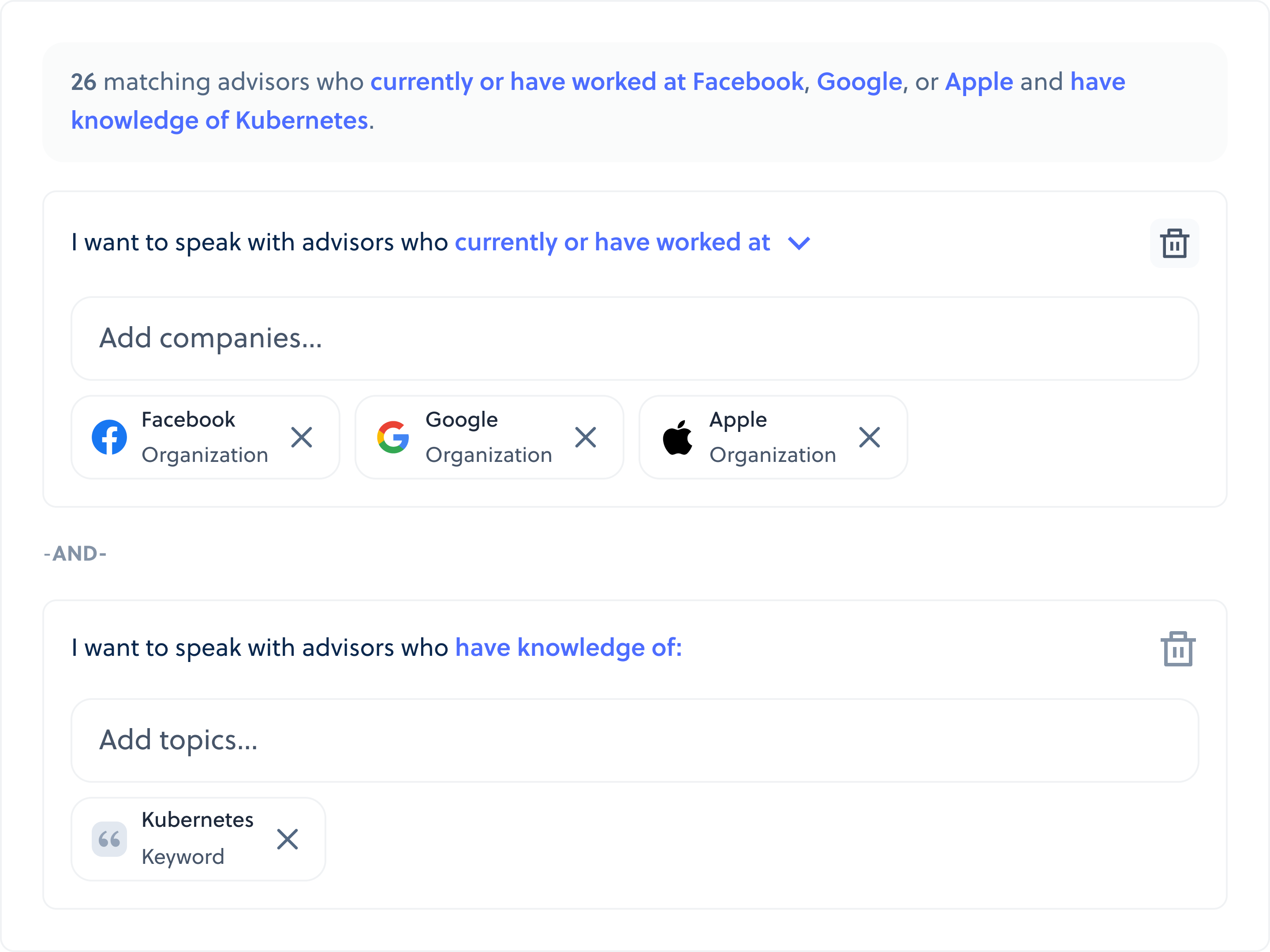 Engagement
Over 40% of advisors in our network have completed an Office Hour successfully and earned money through our platform. And the vast majority have chosen to make their profiles public. As a result, you can be confident advisors booked on Office Hours will be responsive to your needs.
#3: Our software platform
Proprietary search & discovery
From knowledge-driven search to lists of experts curated by our team, we're building the most efficient and powerful expert discovery engine.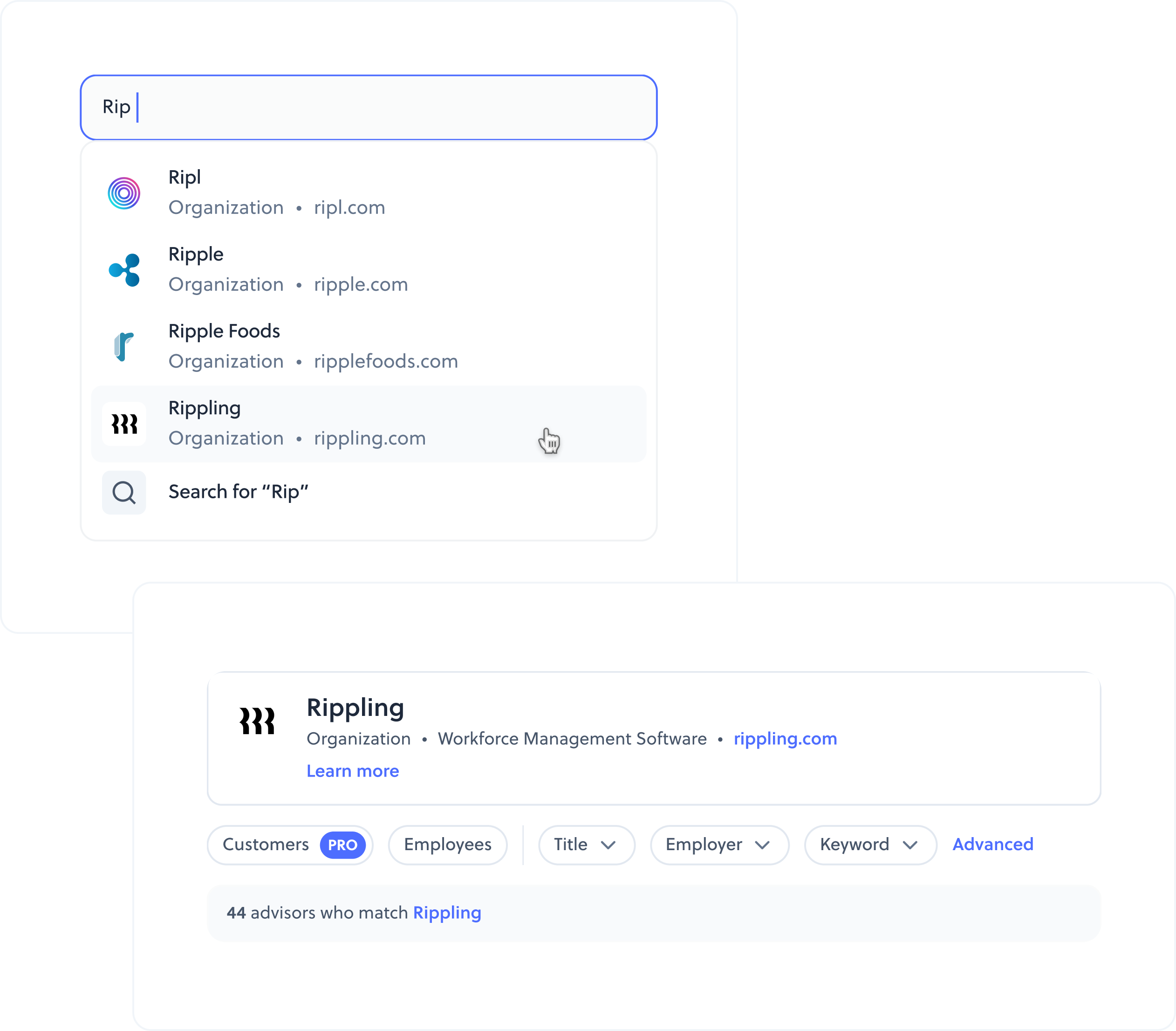 Simplified logistics
Calendar integration tools, streamlined project management tools, simple booking flows, and hassle-free payment infrastructure make booking and attending expert consultations as easy as humanly possible.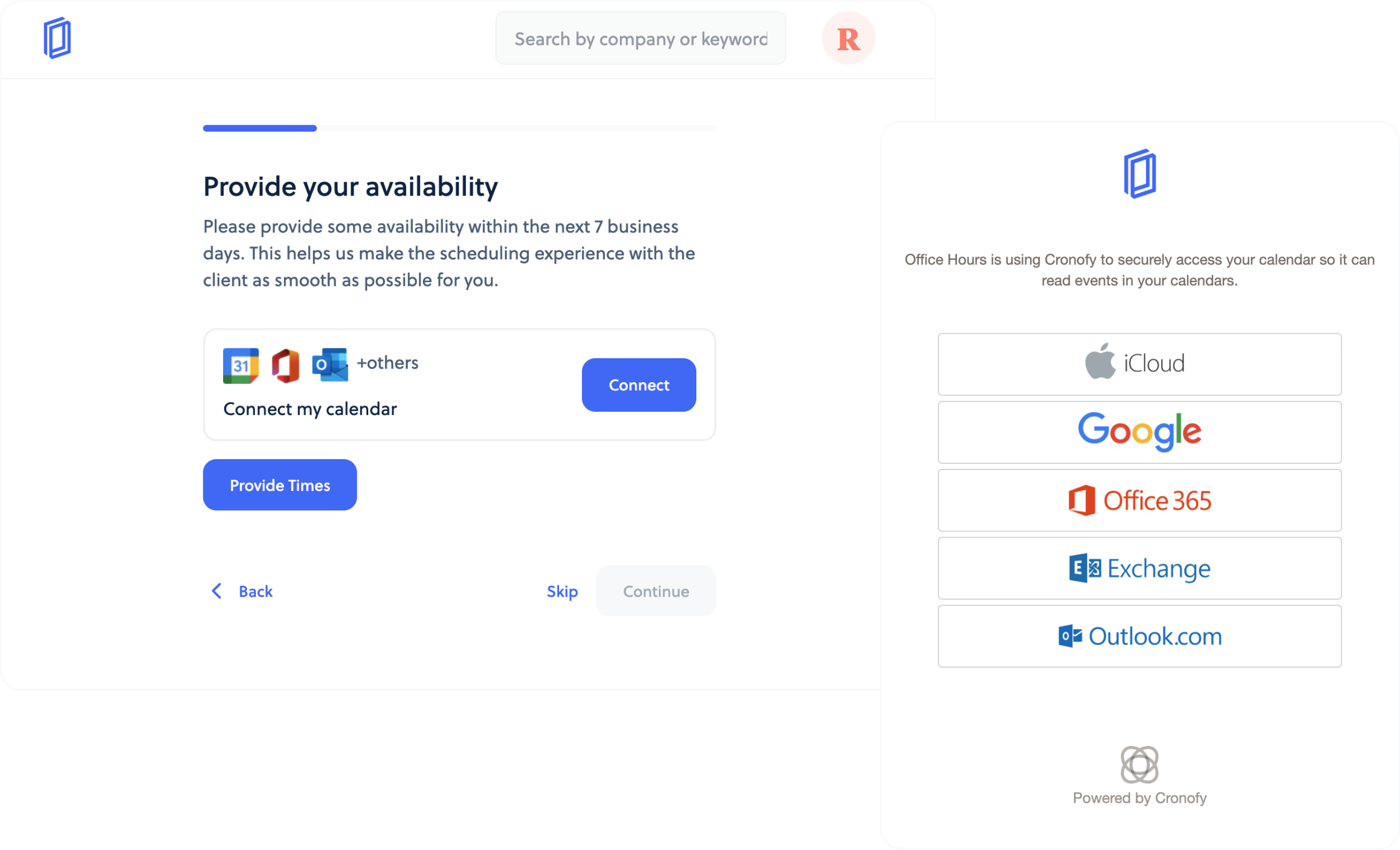 On-platform video & screen sharing
Most expert networks still only offer telephone conference bridges. On Office Hours, you can join via phone or via the web, invite your colleagues to join your calls, and share your screen with experts to get feedback on a product or brainstorm concepts live. And you never have to leave your browser.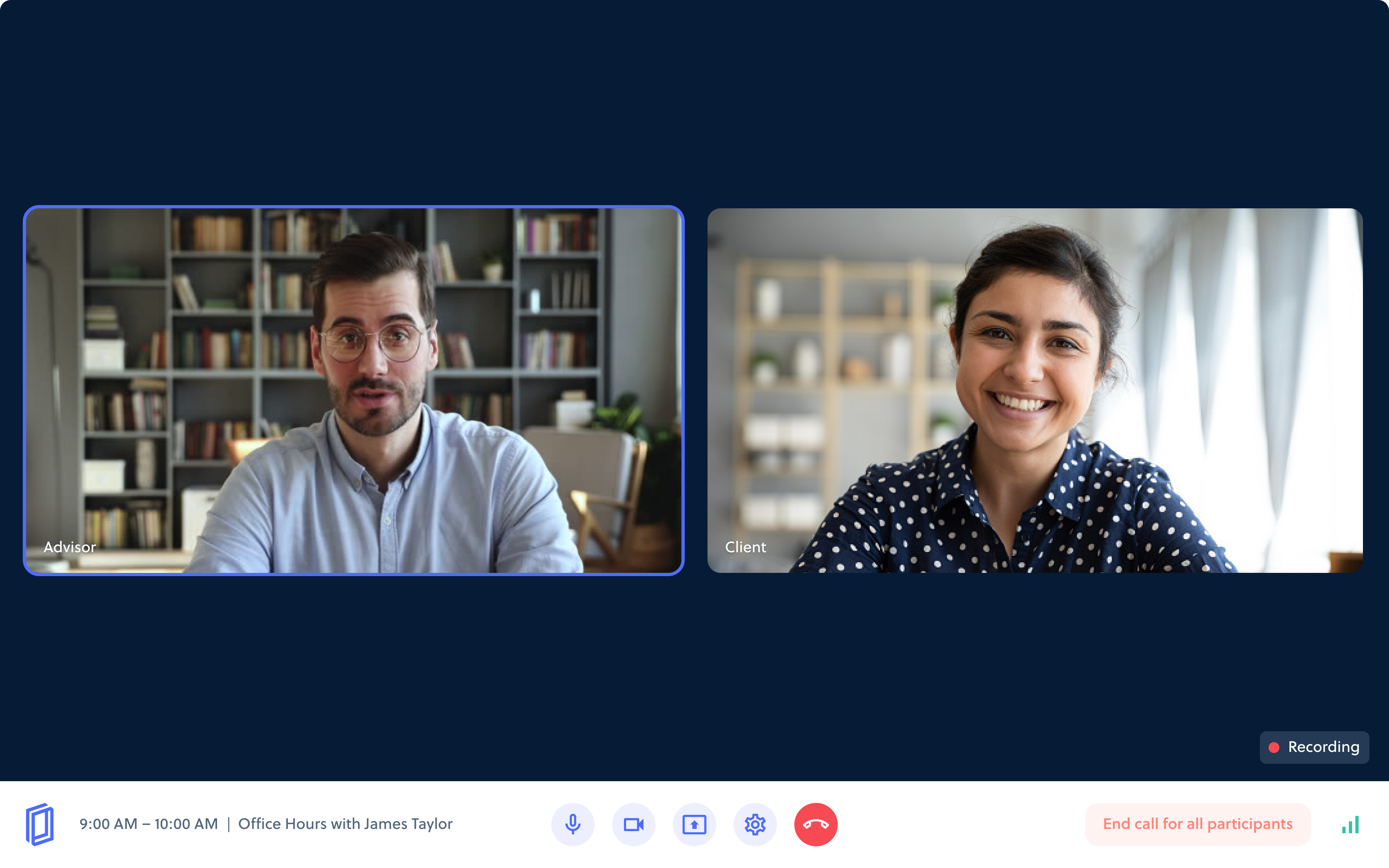 Private, secure transcription services
Stay focused on your consultation and let us handle note-taking. You can select from AI-generated or human-reviewed transcription options, and our platform will notify you as soon as they're ready for review.

Transcripts are available to other members of your team to help your company or firm develop a proprietary knowledge base, but unlike many of our competitors, your transcripts are private and never shared with anyone else.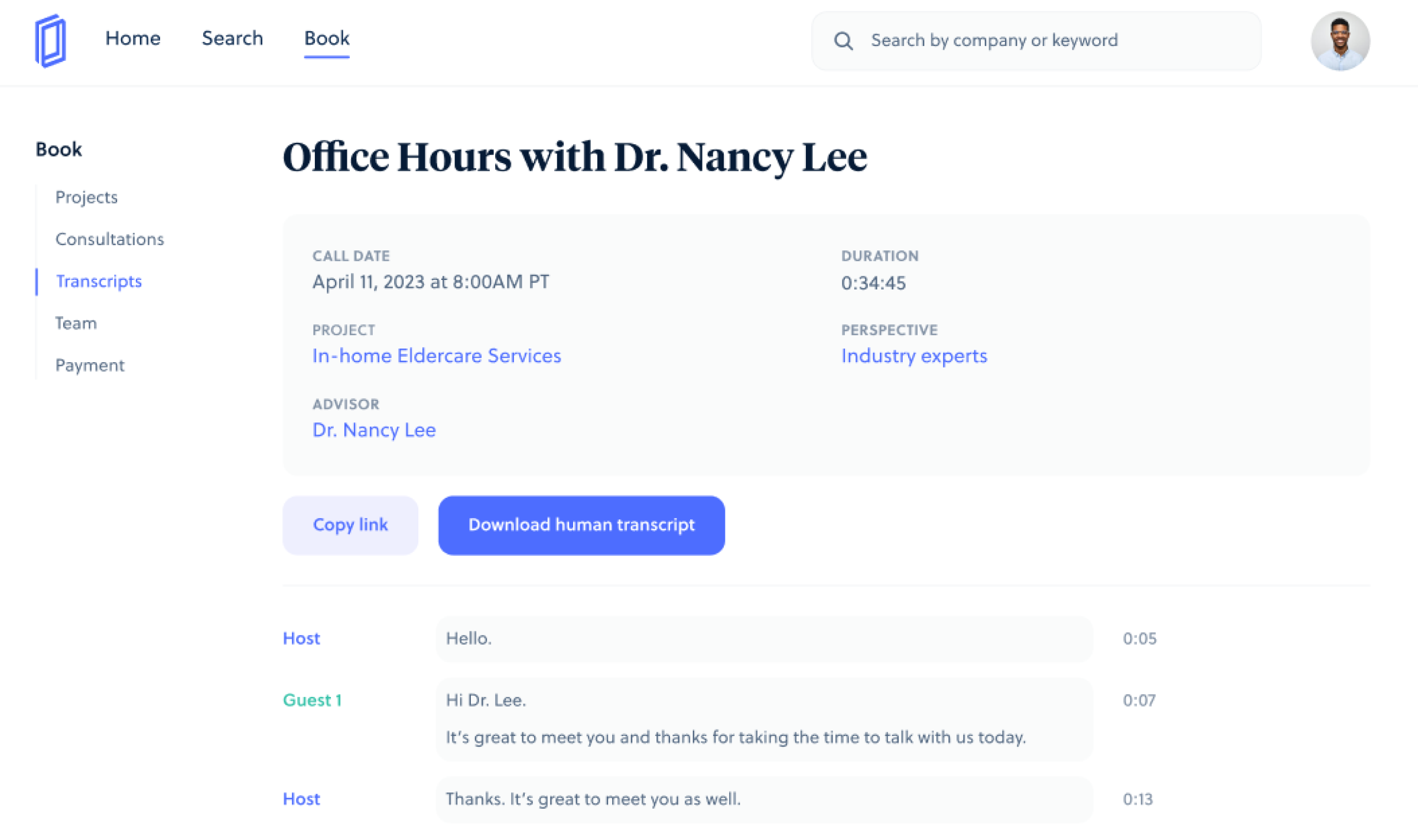 Compliance and team collaboration workflows
In partnership with some of the top venture capital and consulting firms in the world, we've built a suite of world-class compliance approval tools to ensure consultations on Office Hours are safe, secure, and compliant.

From public company affiliation tracking to custom attestation questions, compliance officers can rest easy knowing Office Hours is a partner in enforcing rigorous compliance standards.
#4: Our model
Top-rated customer success team
Our experienced, responsive Client Solutions team is made up of the very best from traditional expert networks.

If you upgrade to Office Hours Pro, you'll have the support of a dedicated Client Solutions representative who, in addition to simplifying logistics as much as possible, can also recruit the exact right profile for you, even if your target isn't already a member of our growing network of advisors.
Flexible engagement model
Prefer 30 minutes instead of 60? Want to make sure your identity is blinded? Our platform was designed to make your expert calls as easy and as flexible as possible.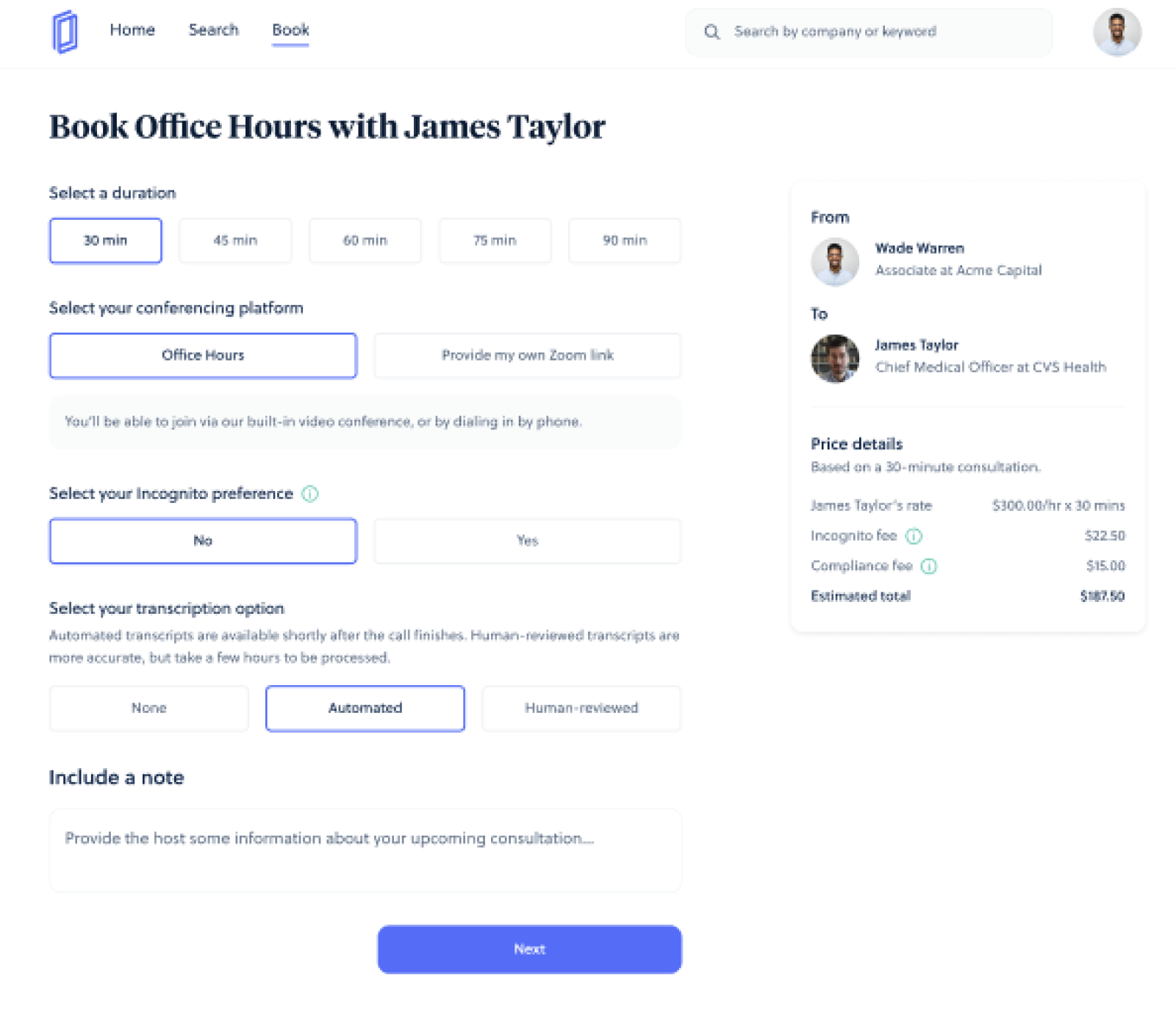 Don't just take our word for it. Sign up for free and explore what Office Hours can do for your team.
At Office Hours, we're committed to democratizing access to knowledge and expertise. Whether you're a startup founder looking to validate your product idea or an investor in search of the latest market trends, our platform has something for you.
Join today (no commitment!) and see for yourself how our network and platform can help you achieve your goals.

Ready to explore the network?
Sign up to explore the network, or schedule a demo with a member of our team.