Customer highlight: Rock Health
April 17, 2023
Office Hours
At Office Hours, we have the privilege of helping a fantastic roster of customers easily access expert perspectives. That roster includes some of the world's foremost advisory firms and consultancies, venture-backed startups, venture capital firms, and many others.

In this series, we'll be profiling many of our incredible customers, and explaining how the Office Hours network and platform help them efficiently access the perspectives they need.
Customer introduction
Rock Health Advisory is a digital health strategy group that helps enterprise companies understand and act on opportunities, craft novel solutions, and succeed in an evolving healthcare landscape.
As part of a recent client strategy project, the Rock Health team wanted to connect with healthcare executives with experience in the payer and specialty clinic spaces.
Why Office Hours?
Leading network of advisors in healthcare and technology
Office Hours has thousands of experts in healthcare and technology available on-demand, including payers, physicians, key opinion leaders (KOLs), and digital health strategists.
In this case, Rock Health Advisory was able to complement its industry-defining research and data by leveraging Office Hours' network to quickly connect with the right advisors across a range of health plans and specialty clinics.
Dedicated customer success team & easy-to-use platform
Our dedicated customer success team supported the Rock Health team by searching for relevant advisors outside the platform and bringing them into our network.
The platform's scheduling tools simplified logistics so the Rock Health team could stay focused on getting as much value from their conversations with advisors as possible.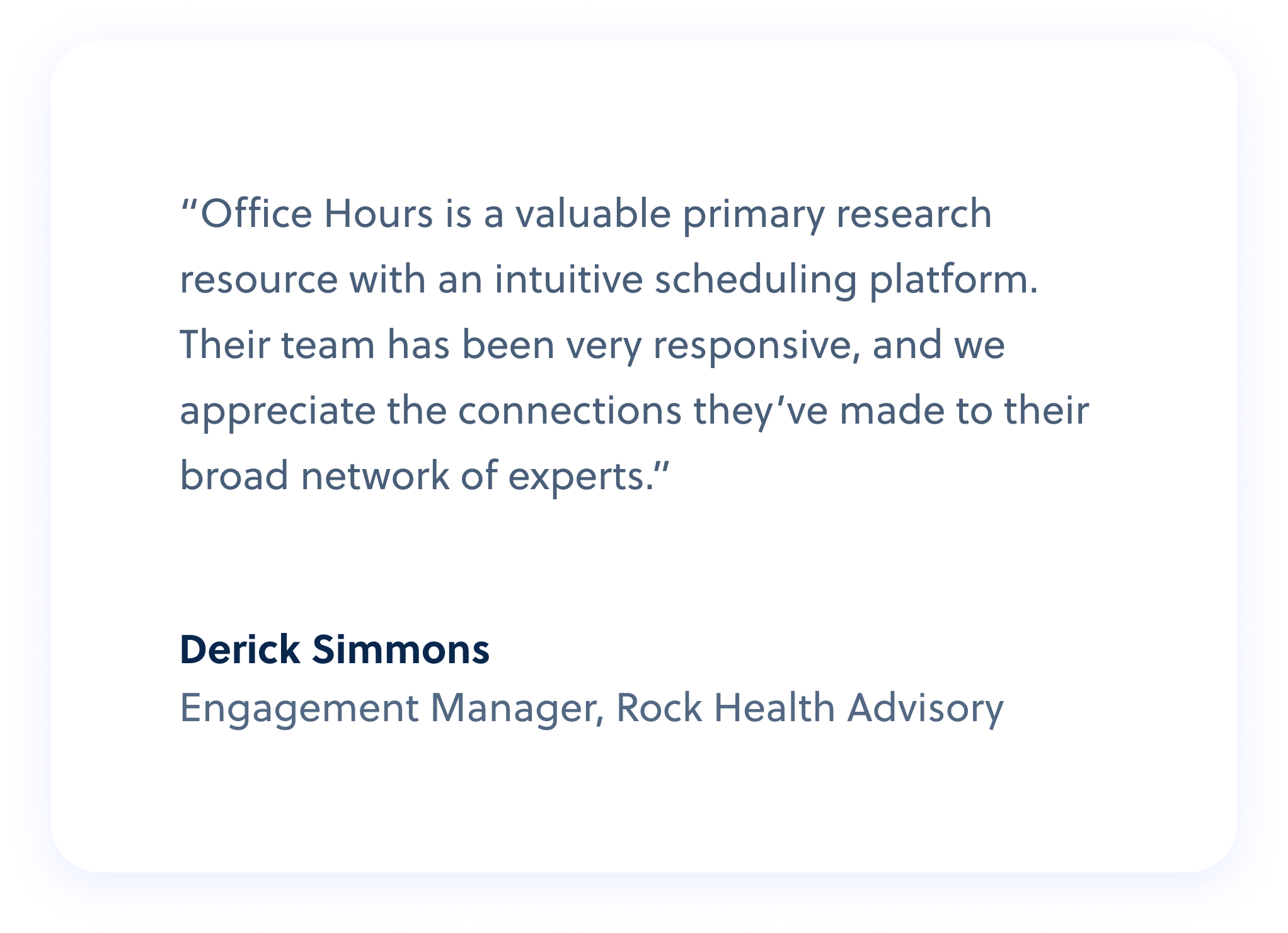 Outcome
Ultimately, the Rock Health team was able to connect with multiple current and former senior executives from leading payers and service delivery organizations.
Perspectives from these hard-to-access experts helped the team to develop robust recommendations for their client.

Curious to learn more about Office Hours?
To learn more about how Office Hours can support you and your team, please schedule a demo or drop us a line at sales@officehours.com.
Ready to explore the network?
Sign up to explore the network, or schedule a demo with a member of our team.