Step-by-Step: Conducting Effective Product Feedback Interviews
April 26, 2023
Office Hours
Table of Contents:
High Quality Advisors = High Signal Feedback
Step 1: Finding the Right Advisors
Step 2: Preparing for the Interviews
Step 3: Conducting the Interviews
Step 4: Putting Feedback to Work
Introduction
Do you have a brilliant product idea or prototype but aren't quite sure if someone will pay for it? Or are you mid-product development, and in need of live perspectives from your target buyer or end user?
Booking advisors on Office Hours for product feedback interviews can be a game-changer. Our network includes thousands of software key decision makers and users available on-demand who can provide insight into their workflows, key pain points, and provide feedback on your product.
In this step-by-step guide, we'll walk you through the process of finding and connecting with industry professionals, obtaining valuable feedback, and refining your product to accelerate your path to product-market fit. Let's dive in!

High Quality Advisors = High Signal Feedback

Product validation is the process of confirming that your target audience indeed needs your product and will be willing to pay for it, and is crucial for any new startup or existing startup launching a new product.
Booking advisors on Office Hours for product feedback interviews is an excellent way to gain high quality, high signal feedback, refine your product, and learn from the best in your industry.
We provide on-demand access to thousands of top minds across software, technology, healthcare and other industries.
Try searching our network for a preview into the types of high quality advisors we have ready and available.
Our advisors could be key decision makers or daily users at your target customer companies. They are also product managers, engineers, and marketers willing to share their insights and advice on the development of your product in general.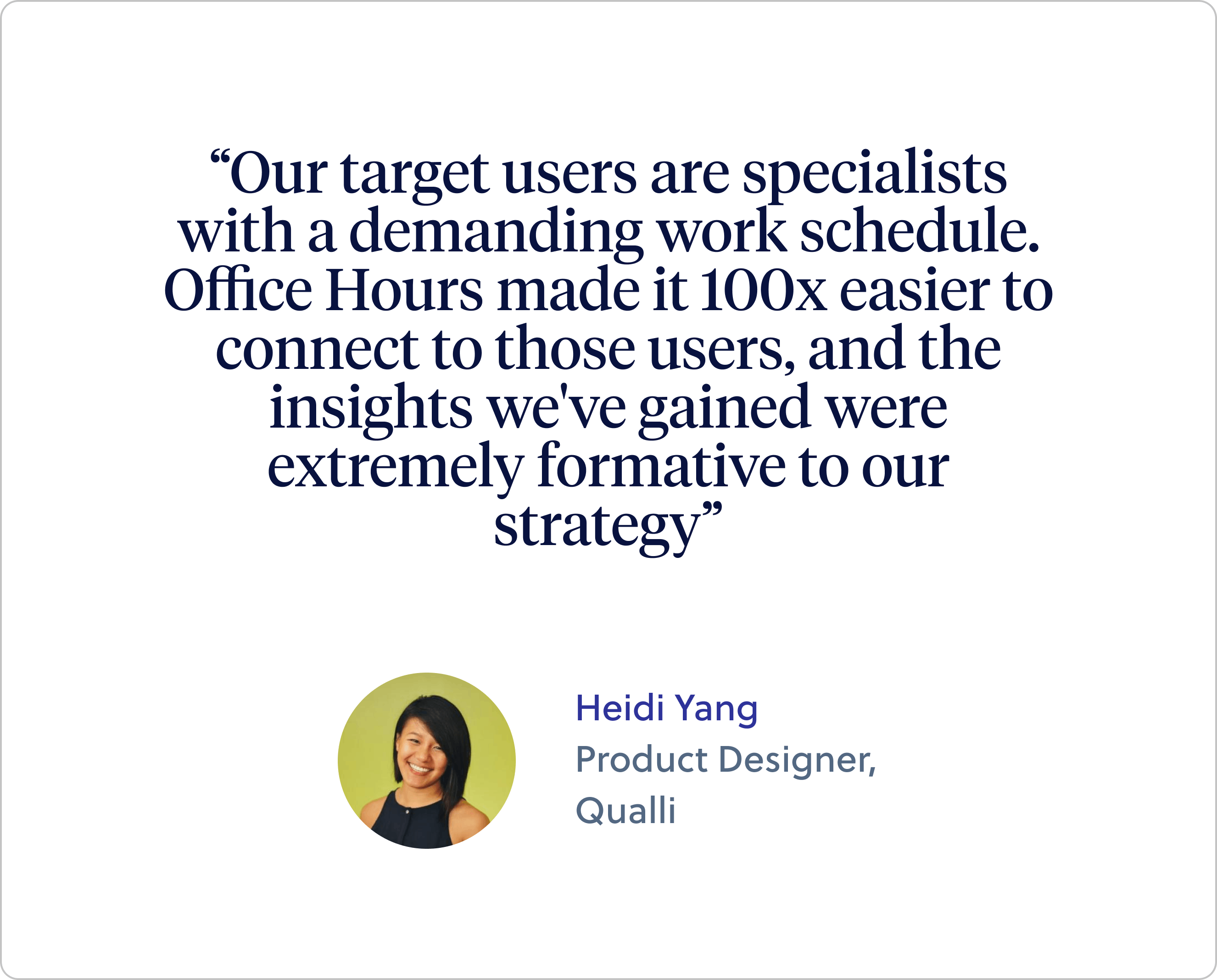 Step 1: Finding the Right Advisors
The next step is finding the right advisors to speak with. Here are a few tips to help you identify the perfect candidates:
Define your target buyer and/or primary end user: Be as specific as possible about the type of customer or user your product is designed for. Who are they? Where do they work? What do they care about?
Aim for a diverse set of perspectives: Aim for a mix of advisors from different backgrounds, roles, and industries to obtain a well-rounded perspective on your product.
Use our search functionality: Our search and recommendation allows you to search in unique and helpful ways. Not only can you search by title and company, but you can also search for customers of specific products or product categories.
Send booking requests: In only a few clicks, you can send a booking request to your selected advisors. Choose your duration, select whether or not you'd like to transcript the conversation, and include a note to help the advisor prepare.
Did you know? If you can't find the exact profile of person you hope to speak with, inquire about a trial of Office Hours Pro. With Pro, you'll have support from a dedicated client services rep who will proactively recruit the right individuals from outside of our network.

Step 2: Preparing for Your Interviews
Once you've identified the advisors you'd like to speak with, it's time to prepare for your interviews. Here are some tips to help you get the most out of your conversation:
Have a clear agenda: Define your objectives and the specific feedback you are seeking. This will help you stay focused during the interview and ensure you cover all essential topics.
Prepare your product demo: If possible, create a demo or prototype of your product to showcase its features and benefits. This will give the advisor a better understanding of your product and enable them to provide more targeted feedback.
Craft open-ended questions: Ask open-ended questions that encourage the advisor to share their thoughts, opinions, and experiences freely. This approach will help you gain deeper insights and uncover opportunities for improvement.
Step 3: Conducting the Interviews
With your preparations in place, you're now ready to conduct your product feedback interview. Keep these best practices in mind:
Be punctual and professional: Respect the advisor's time by arriving on time (or early) for your Office Hours session. Present yourself professionally and be ready to dive into the conversation.
Set the context: Begin the interview by providing a brief overview of your product, its target audience, and your goals for the conversation. This context will help the advisor understand the scope of the feedback they should provide.
Listen actively: As the advisor shares their insights, listen attentively, take notes, and ask follow-up questions. Avoid interrupting or getting defensive. Remember, their feedback is meant to help you improve your product, not criticize it.
Be open to feedback: Embrace both positive and negative feedback with an open mind. This receptivity will help you identify areas for improvement and make your product even better.
Remember - your objective is not to sell the product - it's to validate whether or not your product is something this person would find real value in.
On Office Hours, you have the choice of dialing in via phone or joining via web on your desktop. We suggest joining via web, which gives you the ability to video conference, and show the advisor your product via screen share.
Section 4: Putting Feedback to Work
After your product feedback interview, analyze the insights you've gathered and determine your next steps. Here are some suggestions for moving forward:
Review your notes: Go through your notes and highlight the key points and actionable suggestions made by the advisors. We highly suggest leveraging our automated recording & transcription service to take the hassle and stress out of note-taking.
Identify themes: Look for common themes, patterns, or recurring issues mentioned by multiple advisors. These areas may warrant further exploration or immediate action.
Prioritize improvements: Determine which feedback items are most critical to address and prioritize them based on their potential impact on your product's success.
Create an action plan: Develop a plan outlining the steps you'll take to implement the advisor's feedback. Include deadlines, resources needed, and any potential roadblocks.
Follow up with the advisor: Express your gratitude to the advisor for their time and valuable insights. Share your plans for implementing their feedback and offer to keep them updated on your progress.

Create an account to explore our network for free, or schedule a demo below.
Ready to explore the network?
Sign up to explore the network, or schedule a demo with a member of our team.