The expert network for venture capital firms
Go into every conversation prepared, identify the next opportunity, and win more A+ deals.
Office Hours Pro is trusted by hundreds of companies

Why Office Hours for Investors?
We combine thousands of advisors with our software platform and best-in-class custom recruiting to ensure all of our investor clients are well equipped for every diligence.
High network density of startup customers
Tap into our network of founders, CIOs, CTOs, CISOs, and Dev/Sec Ops Managers. Our focus on the startup ecosystem enables our teams to deliver customers of any target company faster and more consistently than any other solution. Looking for advisors out of network? Our client solutions team will recruit high quality advisors in the first 24 hours than any other expert network.
Search our hottest startups →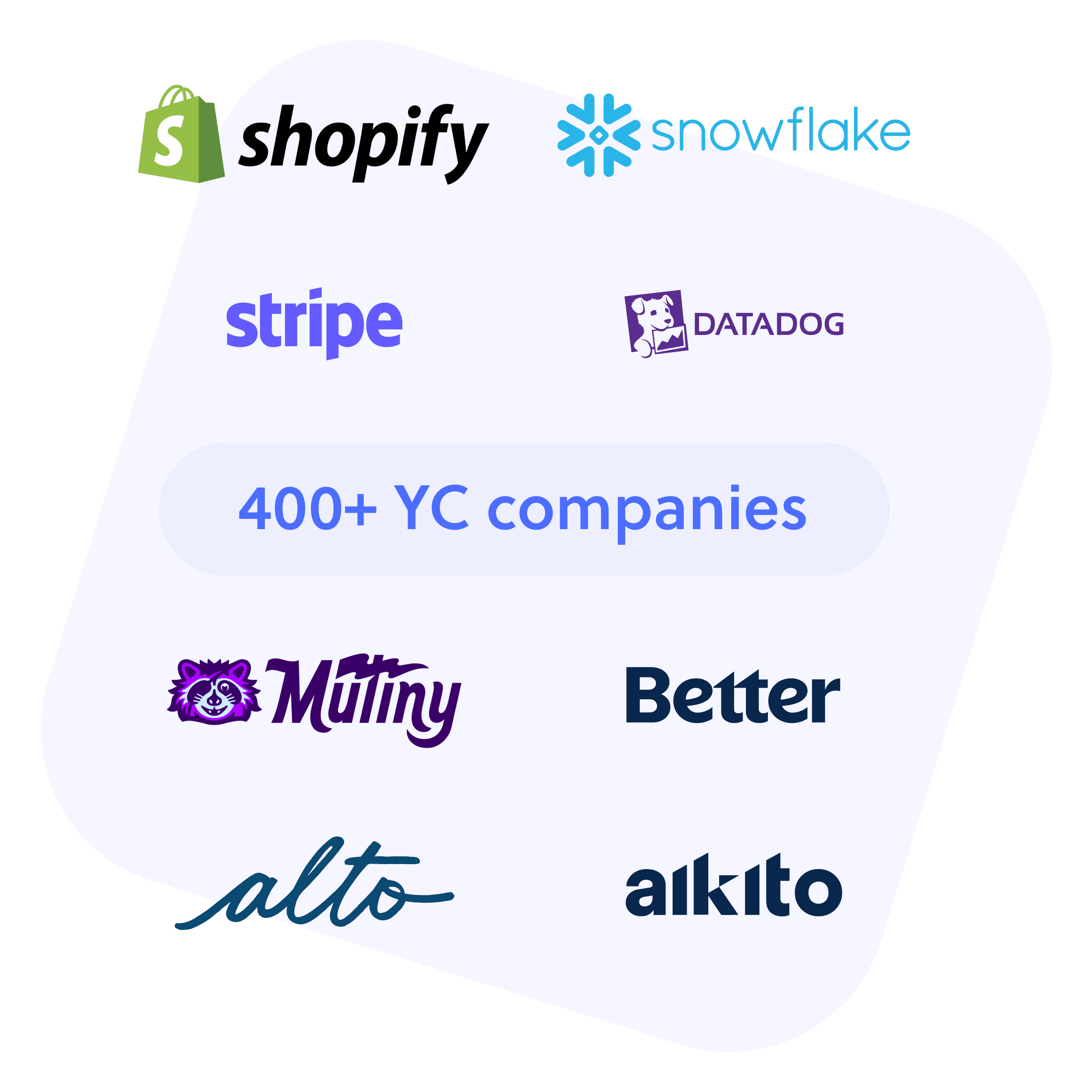 Workflow tools to fit your needs
We've built the best tools and functionality for investors making searching, scheduling, and managing projects across your team even easier.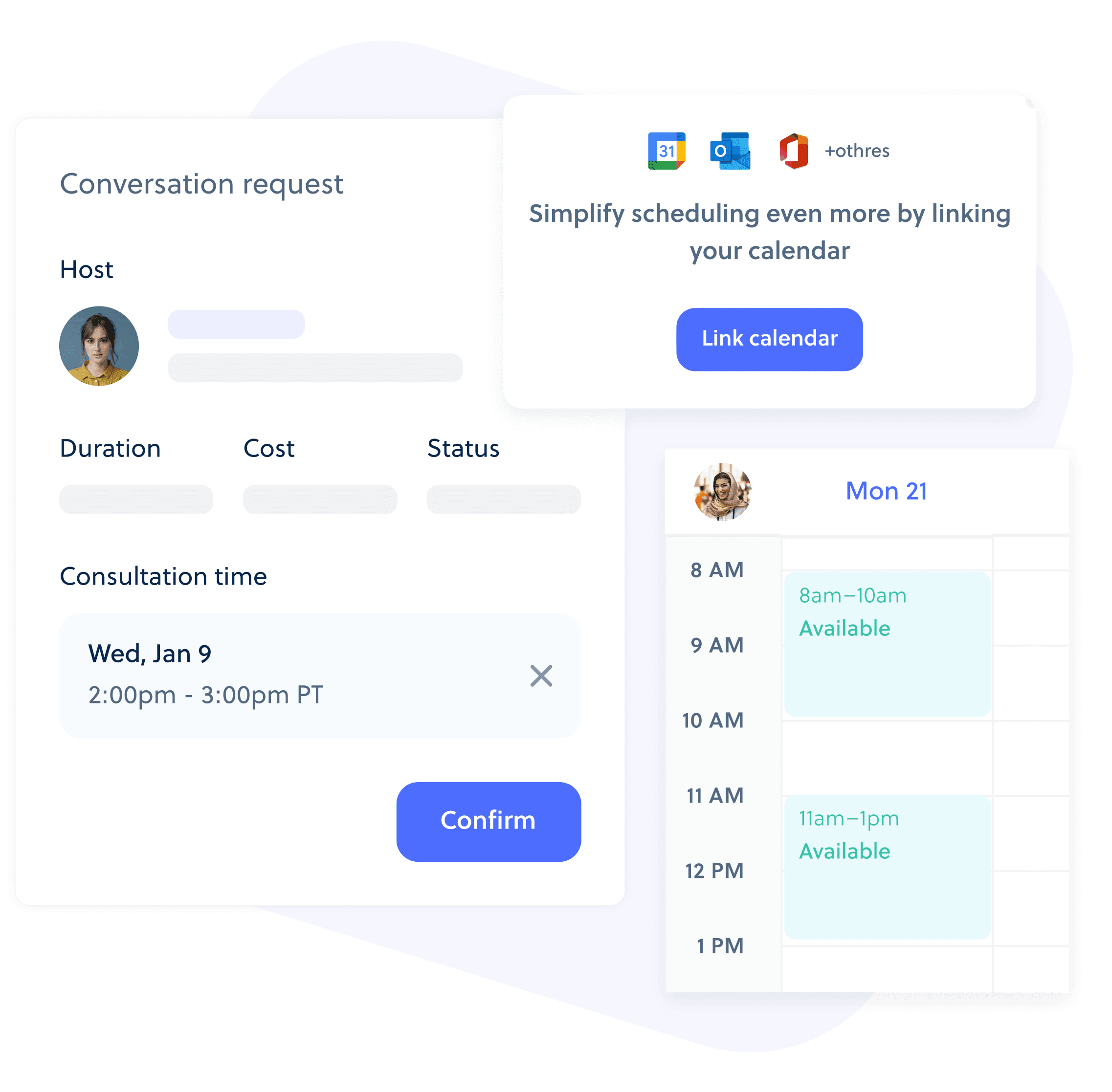 Get to critical insights faster
Our searchable marketplace, powered by our proprietary knowledge graph can help your team identify key decision-makers in minutes, not hours.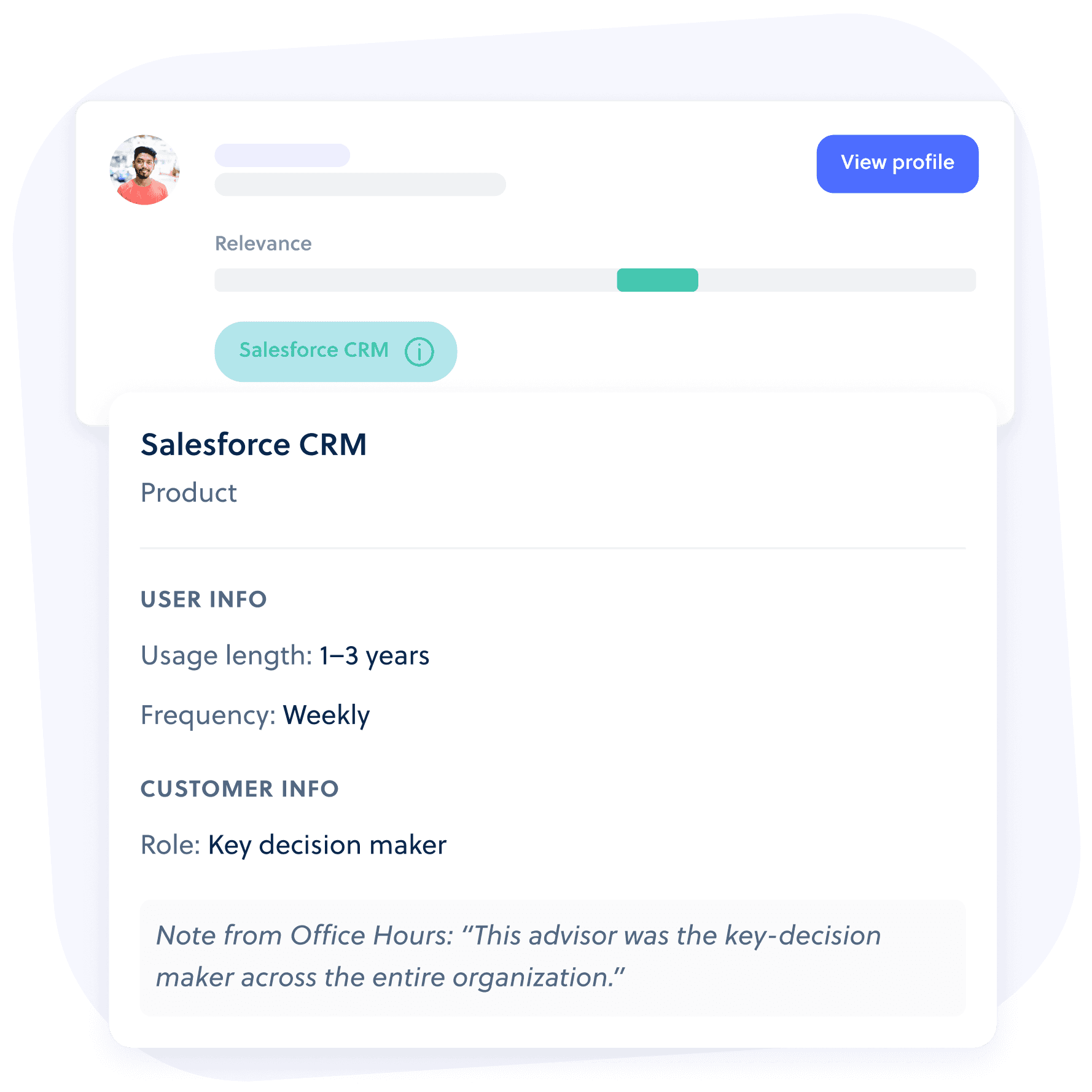 Enterprise-level Compliance
Require advisors to confirm any attestation before calls, prior employment and public company affiliations, and require regular MNPI trainings.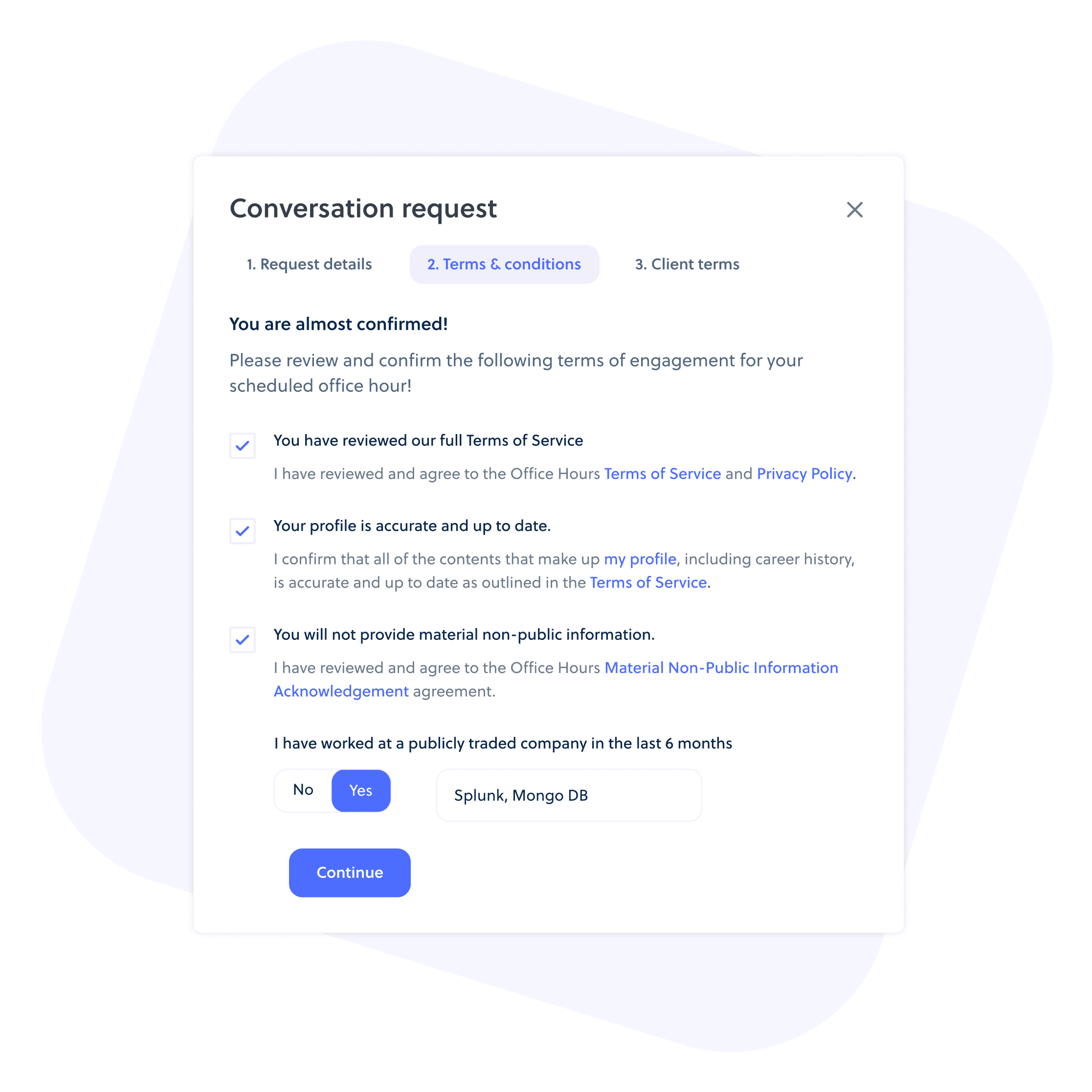 A platform purpose-built for Investors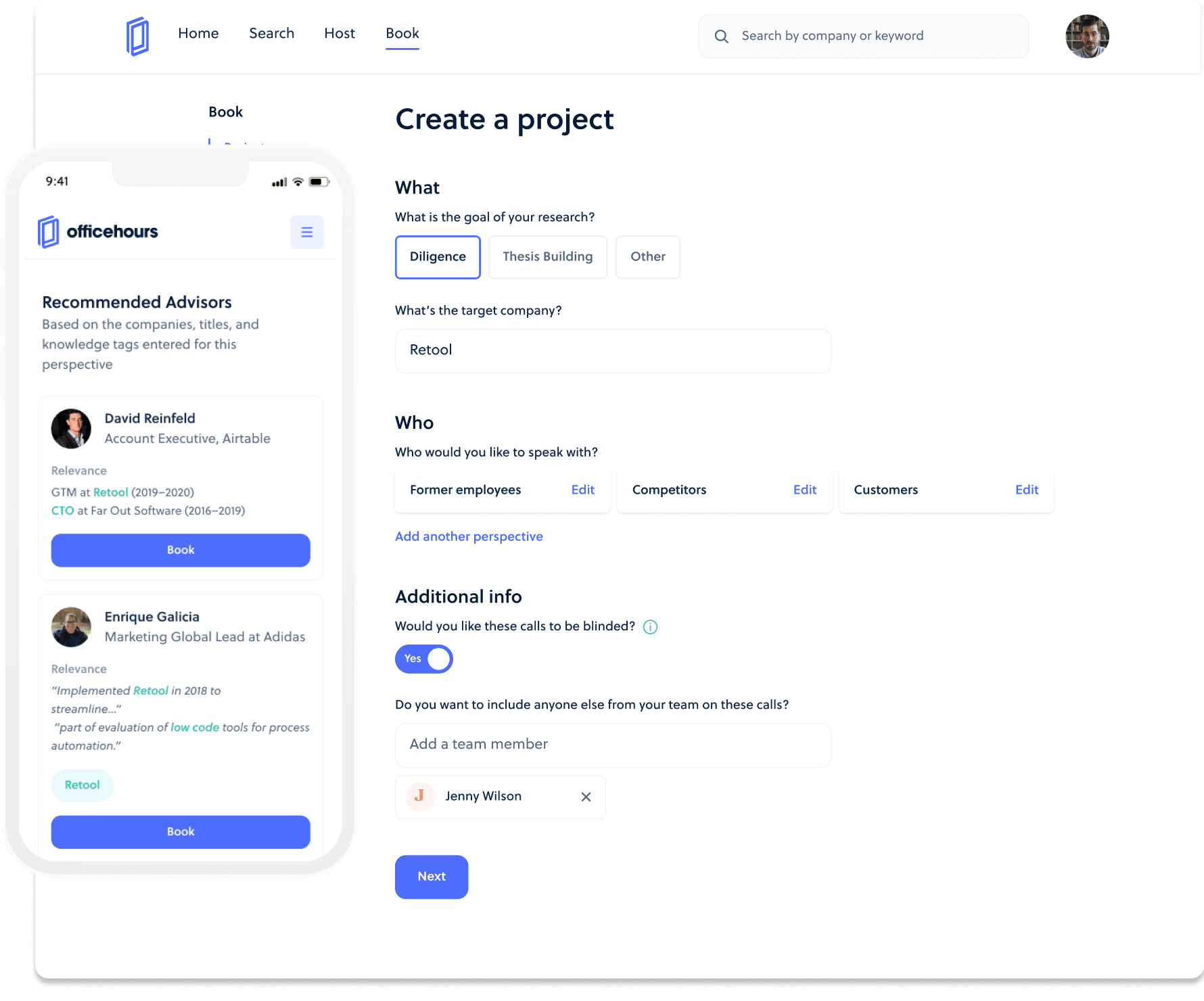 Our diligence workflow makes creating, managing, and re-visiting projects seemless.
Custom recruiting
We have built the software tooling and enhanced sourcing workflows to improve turn-around times and recruit more high quality advisors in the first 24 hours than any other expert network.
Record and transcribe every call
Pro clients can transcribe and record any call and share transcripts across the full team. Office Hours transcripts are never made public or otherwise distributed without prior consent.
Improved screening process
See all screening responses and advisor availability in one place, with clear prioritization of the highest quality, most relevant, advisors for every project.
Plus all the features you would expect
Video calls and screen-sharing.
Take 30, 45, or 60-minute calls, pro-rated by the minute.
Custom screening and quality assurance.
Proprietary knowledge-graph for identifying key decision-makers.
Custom advisor sourcing
We offer world-class Client Solutions built to provide the highest level of service and support with sourcing, screening, and scheduling advisors on behalf of our Enterprise investor clients.
Our customers love Office Hours

"Office Hours has the best network for early stage investment diligence. The on-demand nature, powered by their knowledge graph, makes it a must-have solution for every venture investor."
— Nick Bunick, Principal, NewView Capital
Doing diligence? Book a demo.
Learn how Office Hours can connect you with experts from every perspective...