Validate your product with experts on Office Hours
Connect with your ideal customer personas, buyers, and other expert advisors to accelerate product development and growth.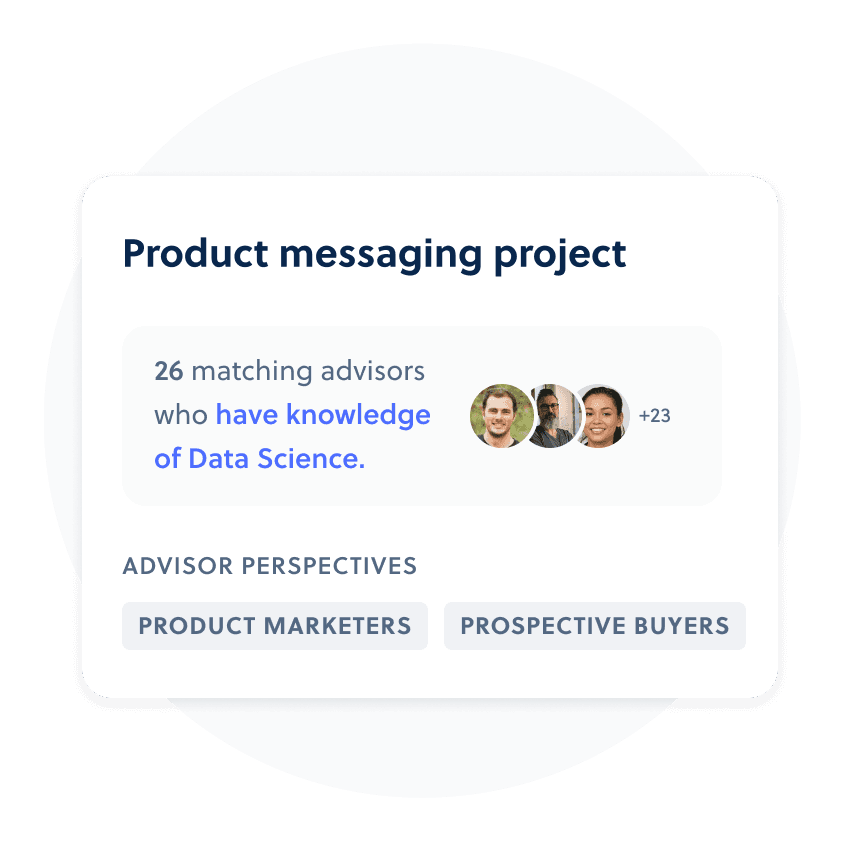 Office Hours Pro is trusted by hundreds of companies

Why Office Hours for Startups?
Our open-network model enables you to connect directly with our engaged startups advisors, at a lower cost than traditional networks.
Access to the #1 startup ecosystem
Tap into our network of industry experts to get objective feedback and product guidance. Our focus on the startup ecosystem enables you to speak with former employees of incumbents or industry veterans that have experience building in your market.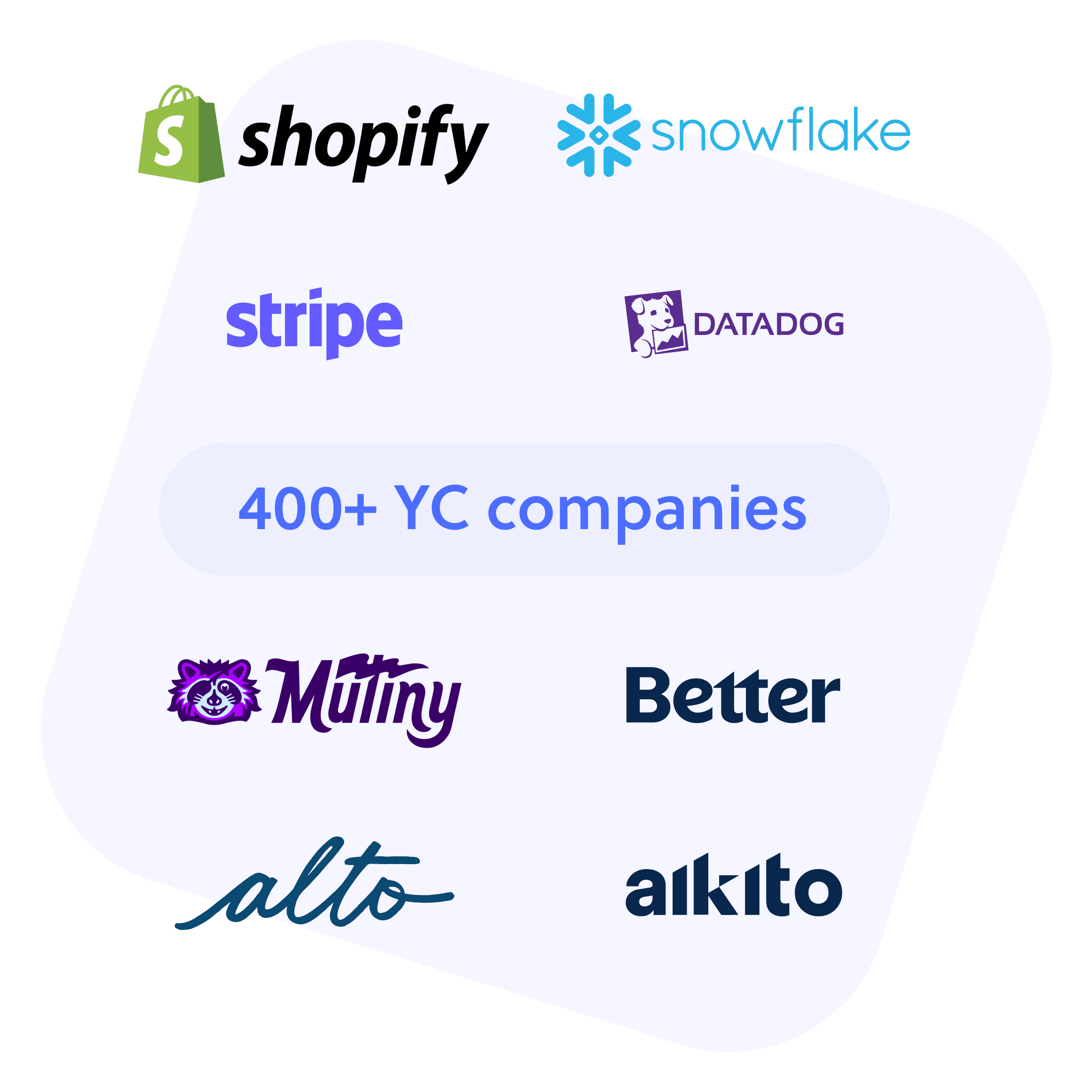 Validate your roadmap and positioning
Connect with ideal customer personas and target buyers to inform your product decision-making, improve Product Marketing, and supercharge your Sales and Marketing efforts.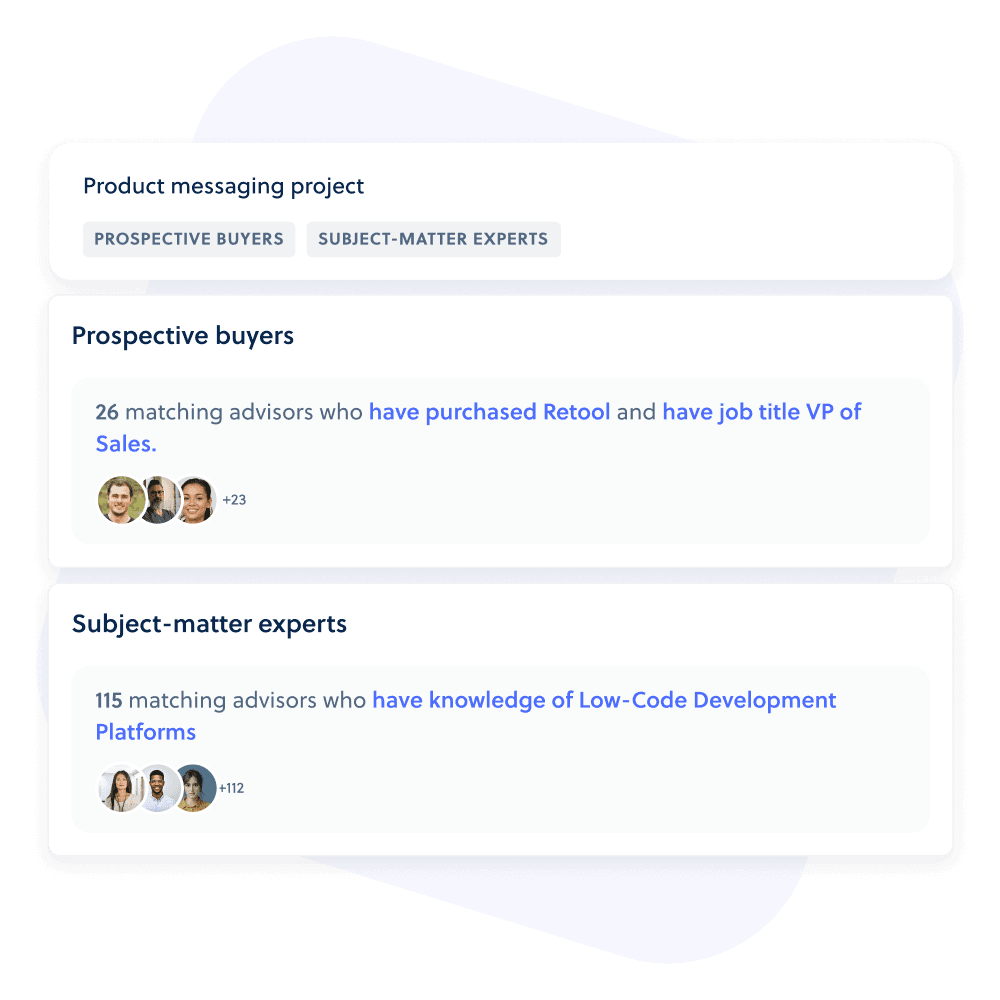 Get to critical insights faster
Our searchable marketplace, powered by our proprietary knowledge graph can help your team identify right advisors for your most pressing projects as easy and quick as possible.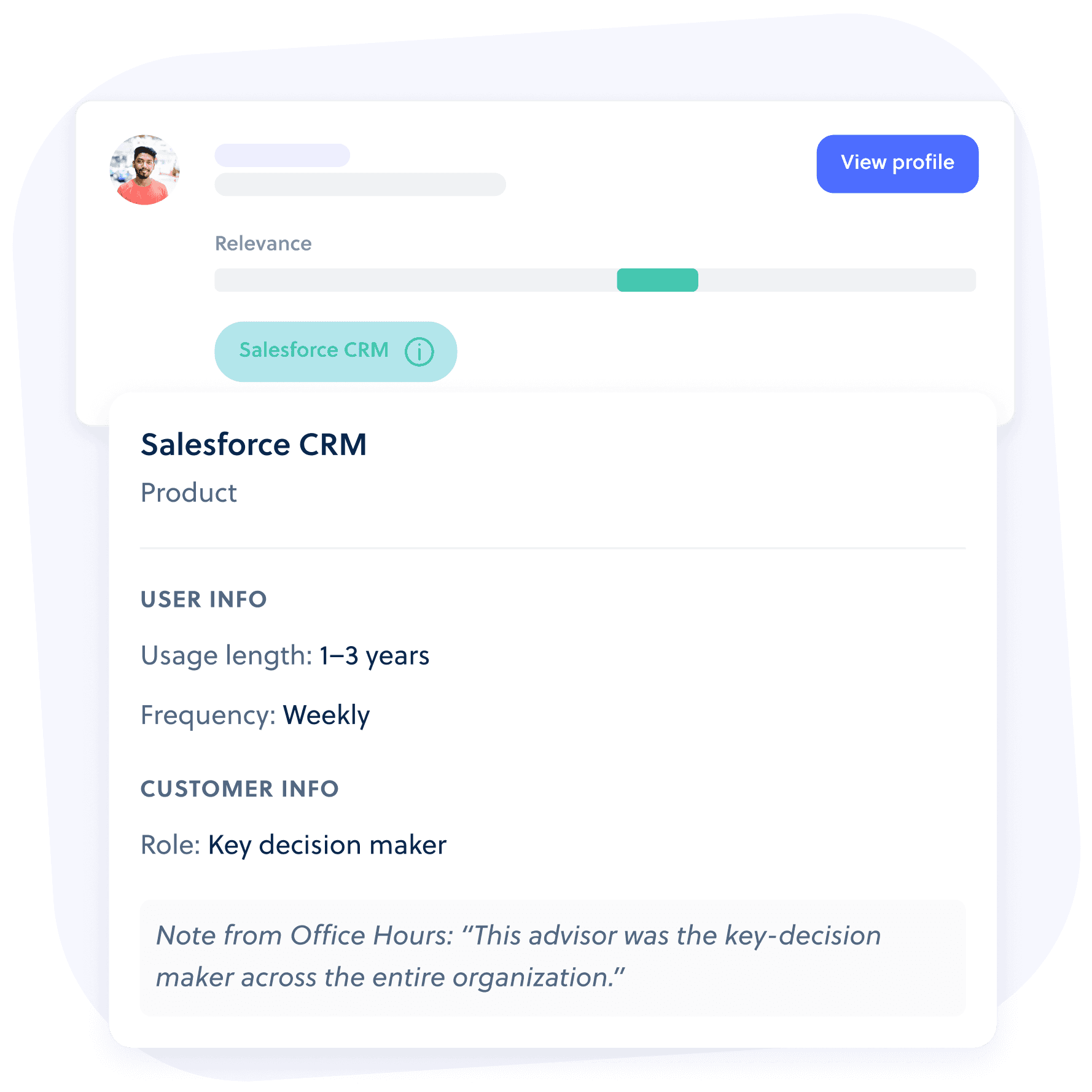 Workflow tools to fit your needs
We've built the best tools and functionality for investors making searching, scheduling, and managing projects across your team even easier.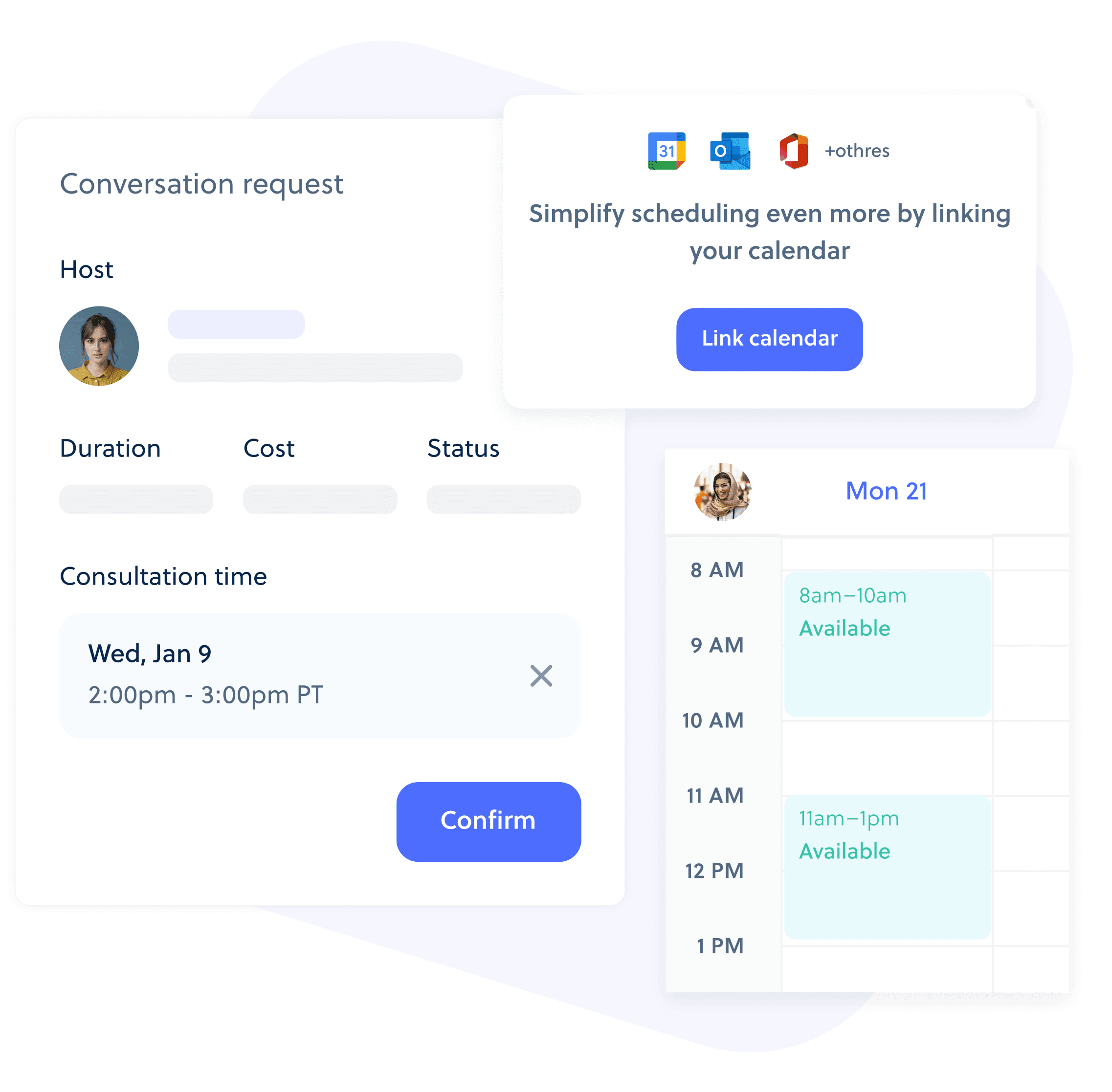 A platform purpose-built for Startups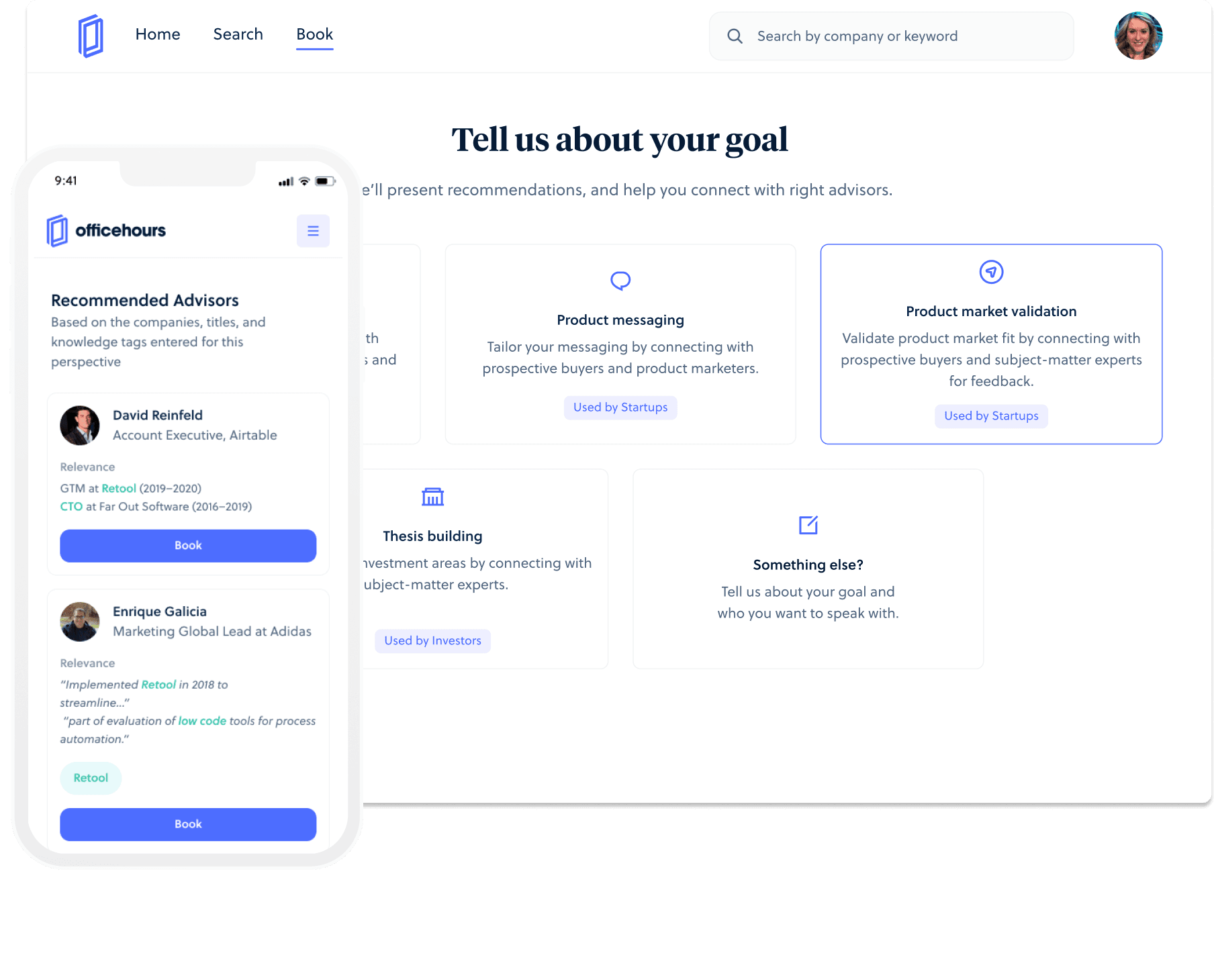 Office Hours Pro is built to help you understand your path forward, faster.
Self-service paired with premier client solutions
Find advisors and manage projects on your own, or work with our client solutions team to find your dream advisors. Our client solutions team will manage the entire outreach, recruitment, and incentives process.
Record and transcribe every call
Pro clients can transcribe and record any call and share transcripts across the full team. Office Hours transcripts are never made public or otherwise distributed without prior consent.
Tools purpose built for knowledge sharing
Build out projects using our advanced advisor profile search. Request, reschedule, and take calls on the Office Hours platform.
Plus all the features you would expect
Video calls and screen-sharing.
Take 30, 45, or 60-minute calls, pro-rated by the minute.
Custom screening and quality assurance.
Proprietary knowledge-graph for identifying key decision-makers.
Custom advisor sourcing
We offer world-class Client Solutions built to provide the highest level of service and support with sourcing, screening, and scheduling advisors on behalf of our Enterprise investor clients.
Our customers love Office Hours

"Office Hours has been invaluable for us as an early-stage startup trying to get quick customer feedback and product advice. Can't recommend it highly enough!"
— Lawson Kuehnert, CEO, Intern Scale
Finding your Product-Market fit?
Book a demo.
Learn how Office Hours can connect you with industry veterans and refine your product positioning...